Tottenham Hotspur
Beckham hails 'arrogance' of Tottenham star Alli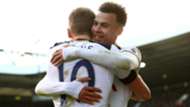 David Beckham considers Tottenham midfielder Dele Alli to have an "arrogance" in his game which makes him a special talent.
The England international has enjoyed another standout campaign for club and country, with his efforts recognised with the 2016-17 PFA Young Player of the Year award.
Alli has now captured that crown in successive seasons, with a 20-goal return this term seeing him double his tally from 2015-16.
'Alli more important than Kane'
The 21-year-old is now considered to be one of European football's brightest stars, with former Manchester United and Real Madrid winger Beckham among his many fans.
He told those in attendance at the PFA awards on Sunday evening: "We're lucky as a nation to have young talented players coming through, and he is without doubt one of the shining lights of these young players.
"He plays the game with a certain arrogance, and it's good to have that arrogance, because a lot of top players have that. He's a joy to watch.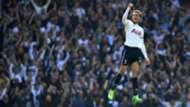 "He's a player that hopefully, if he works hard like he has been working hard, and continues to play for the manager [Mauricio Pochettino] that he's played for - because I think he's a special manager, and he's looking after him in the right way - he's a special player.
"I hope he continues to get better week after week, because as an England fan, we want to see these players perform the way he's performing.
'Spurs must improve in big games'
"When you have someone like that playing for England, when you've got Harry [Kane] playing for England, when you've got Danny Rose, Kyle Walker and you see these guys coming through, that's exciting."
Beckham knows all about the benefits an exciting crop of home-grown can bring to a Premier League title-chasing side having formed part of United's legendary 'Class of 92'.
He has also kept a close eye on events at Spurs down the years and spent a brief period training with the club during the MLS off-season in 2011.