Mtibwa Sugar
Batambuze confident of Mtibwa Sugar win in the FA Cup final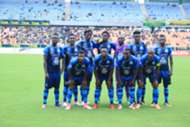 Singida United left-back Shafiq Batambuze has claimed that his team have enough attacking players to hurt Mtibwa Sugar in the FA Cup Final June 2.
Speaking to Goal, the Ugandan defender said that they have prepared well to win the match and they will surely hurt Mtibwa Sugar because of their attacking players.
"We are ready for the final against Mtibwa Sugar, our attacking players give us much confident and surely we will hurt them," said Batambuze.
The two teams will meet in the FA cup for the first time and the winner will book a place in the CAF Confederation Cup next season.