KPL
Bandari to hold three-day open tryout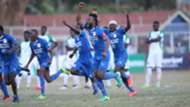 Bandari FC will hold a three-day tryout as they seek to revamp the squad ahead of the 2018 season.
The Dockers finished 10th in the 2017 Kenyan Premier League season and coach Paul Nkata is planig to move to the market early enough to fish out the budding talents.
The club is expected to release a number of players, including defender Noah Abich whose contract runs out at the end of December, Jacob Kelly and Enock Agwanda.
The trials session will run from November 27 to December 1 at the Mbaraki Sports Club in Mombasa from 2.00 PM to 4.00 daily.
"This is to recruit young talented footballers from the country," Bandari said in a statement.
 The tryout that is open to all players from across the country will be held under strict supervision of all the club's coaches.