Mario Balotelli
'Balotelli should be at Ronaldo's level' - Mancini discusses 'daft' ex-Man City and Liverpool striker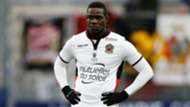 Mario Balotelli has been told he "should've been at the level of Cristiano Ronaldo" by his former Inter and Manchester City manager Roberto Mancini.
The enigmatic striker has forged a successful career at the highest level, with title successes toasted in Serie A and the Premier League.
He has also helped Nice to secure Champions League qualification this season, with his career back on track following a forgettable spell at Liverpool.
'Balotelli has nothing to prove, he's a star!'
There is, however, a feeling that the 26-year-old could have achieved even more with the correct mindset and positioned himself alongside Real Madrid talisman Ronaldo and the global elite.
Mancini told TMW: "Mario is a really good kid, but a bit ruled by his instinct. Apart from when he does something daft, but that can happen when you're young.
"He has so much quality that, when he started, he should've been at the level of Ronaldo. If he isn't there now, then at least some of that is his own fault.
"Now he is 26 years old and can do a little more."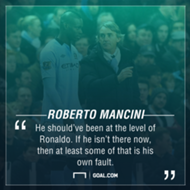 Balotelli formed part of the conversation with his former coach and acknowledges that his career did stall somewhat after returning to England at Anfield following 18 months back in Italy with Milan.
He has also conceded that some tough love from Mancini previously helped to bring the best out of him at Inter and City.
"When we won the Premier League title with Manchester City is my happiest memory of Mancini," he said.
Why Balotelli must not follow Ben Arfa
"Having said that, I have many memories of the coach, both at Inter and Manchester City, mostly of him telling me off!
"I had a few problems over the last two seasons and played really badly. Now I am back on track, let's say."
Balotelli has netted 16 times in all competitions for Nice this season – his best return since the 2013-14 campaign.