Crystal Palace
Ayew looking forward to breaking Crystal Palace goal duck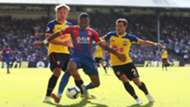 Crystal Palace striker Jordan Ayew is confident about rediscovering his scoring form soon amid early frustrations at Selhurst Park.
The Ghana international is yet to find the back of the net since joining The Eagles on loan from Swansea City in August.
On Sunday, he played his sixth Premier League game for Roy Hodgson's outfit in a 2-2 draw with Arsenal.
"The most important thing for me is to work for the team and to make sure the team win," Ayew told his club's official website.
"My personal view is that the goals will come when they come. I'm not stressed or panicked at all.
"I just keep on working hard and I'll get rewarded one day.
"We know we have confidence in ourselves.
"This league is not easy but [on Sunday], we had a good performance and we'll build on that."
After opening the scoring through Luka Milivojevic's first half penalty, Palace lost their lead and were trailing 2-1 after recess, before the Serbian converted a second spot-kick seven minutes to full-time to share the spoils.
"I think we deserved three points but that's part of the game," said, Ayew.
"We had some unlucky moments but they're part of the game too.
"A point is good, good for the confidence. We'll see what will happen next.
"We have to stay positive because we had a very good performance today."
Last season, Ayew netted seven times in 36 league games involving 33 starts for Swansea.