Atlético Madrid
Atletico Madrid's Partey admits English Premier League lure amid transfer speculations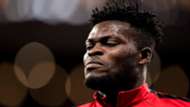 Atletico Madrid ace Thomas Teye Partey has admitted his penchant for English football but says a move away from the Red and Whites is unlikely. 
The Ghana international has been a subject of transfer speculations following his outstanding showing for Diego Simeone's outfit this season. 
The 24-year-old, who has made 31 La Liga appearances involving 26 starts and three goals this term, has been linked to Southampton and Chelsea.
"I don't really read too much into what the media say regarding me moving," Partey told The Independent. 
"I leave that all to my management, but of course everybody knows the English game is one of the best in the world.
"I have played in their stadiums twice already this season at Stamford Bridge and at the Emirates and I know how the atmosphere is, but at the minute I am so happy in Madrid.
"I get to train under Simeone and he trusts me, so I cannot ask more at the minute and I am enjoying my football in every game."
The Ghanaian, who has also been linked to Italian outfit Inter Milan, also shed light on Thursday's Europa League semi-final return fixture with Arsenal. 
The first leg ended 1-1 at Emirates Stadium.
"The tie is not over but of course not to sound arrogant we know what we have to do to get to the final," he said.
"They have their mission to sign off Wenger very well but we also have to continue to ensure that every season we are among the best in Europe and that is where our fire comes from.
"Things can change so fast in football so we don't have to lower our guard.
"We know we have world class players but Arsenal has also world class players, so it will all come down to the determined team, so we will be ready for them for another battle."