India
Asian Cup Qualification: India aren't in a bad shape, claims coach Stephen Constantine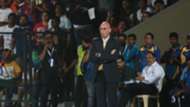 Falling prey to the Kyrgyz Republic in a 2-1 result, India ended their streak of 13 unbeaten games in Bishkek on Tuesday. 
Anton Zemlianukhin and Mirlan Murzaev scored for the hosts but Jeje Lalpekhlua netted a late consolation to end the group stage with India at the top of the table.
Assessing the performance of his side, gaffer Stephen Constantine was satisfied with the efforts of the boys. ''We scored an away goal against a very good team like Kyrgyzstan. I don't think that the players didn't live up to the expectations. I don't agree with that.''
''I have a group of players who are extremely disappointed. They gave everything they had. But, I'm extremely proud of the work and the fight and we finished at the top of the group. The job for us is done,'' he commented. 
The former Sudan manager admitted that the Blue Tigers had a shocking start to the match which made things difficult for them. ''We didn't have the best start to the game which we would have liked. And when you are a goal down just after a couple of minutes, it becomes even more difficult. It took us too long to get into the game,'' he explained. ''We hit the post and had a goal disallowed. Kyrgyzstan had just one shot on goal in the first half, which was the goal.
"They had much more possession than us but I thought we were extremely unlucky to go in at half-time, losing the game. They were better than us in the second half. We made a couple of silly mistakes that cost us. I think if we'd scored ten minutes earlier, it would have been a different game,'' added the 55-year-old.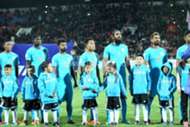 Constantine revealed that the team needs to rectify their errors in certain phases but acknowledges the transition made by the group through the years. ''I think as a team we need to improve in certain areas, which I'm not going to tell the whole world about. I don't think we are in a bad shape, at the moment. Three years ago, we were among the 170s rank where we had to play qualifiers in order to play the qualification round.
"Today was the 37th player who made a debut since my arrival. In this squad, I have 11 U-23 players, three of those being under 20. We have a good future,'' he asserted.
The final round of AFC Asian Cup will be held in UAE next year. When asked if alterations will be made in the squad which will compete next year, Constantine answered, ''There is a lot of football to be played between now and when we have to announce the final squad. The positions are available, nobody has their name in stone. It's an ongoing process; I don't want to close the door for anyone. There could be a couple of new faces; I don't want anyone to be complacent.''