Premier League
Arsenal need a Cazorla-type midfielder, says Gunners legend Parlour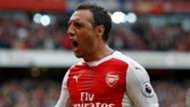 Arsenal legend Ray Parlour says the Gunners need to sign a midfielder who possesses the same qualities as Santi Cazorla.
The Spanish maestro has been on the sidelines for 11 months and struggled to recover from several procedures on his right ankle, but on Thursday he stepped up his rehabilitation by running in training for the first time since his latest surgery.
Bournemouth 15/2 to win at Arsenal
Arsene Wenger's side missed out on the signing of French starlet Thomas Lemar after a late deadline day swoop for the Monaco youngster, with Parlour convinced that it won't be long before Arsenal go back in for the 21-year-old.
"[Thomas] Lemar would have been a great signing. It was talked about all summer and if the bid was true it was an unbelievable offer," Parlour told Goal at the launch of Papa John's new Deep Crust pizza.
"I'm sure they will go back in there in January but if they can prize him away from there we'll have to wait and see. I thought Lacazette is a good signing, he will get better. It takes time for some players to settle in and he wasn't 100 per cent fit when he first arrived. Kolasinac looks a good player, has a bit about beef about him which you need.
"I would have liked to have seen Arsenal sign one more midfielder. I know they're very hard to find and it's impossible to find a player like [Santi] Cazorla. They really missed him in midfield last season as he links it all together. I think the manager will have to look at it and say 'this is the squad I've got now we have until January' and hopefully get a response from that poor defeat at Liverpool."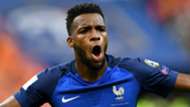 Parlour tweeted his frustrations at watching the vulnerable Arsenal defence concede 4-0 at the hands of Liverpool and says the entire team were culpable for the loss, but remains hopeful that their fortunes will change in upcoming games against Bournemouth and Chelsea.
"When you go to Liverpool the crowd are fantastic, they get behind their team and the players get a lift. You've got to be solid.
"There were times in the game when it was just far too open. The whole team have to defend at times. You're always going to be up against it when you're playing Manchester United, City and Chelsea but that's when you have to be disciplined and make sure they can't reach the players like Mane who are going to hurt you. They were picking balls up where it's [usually] so hard to pick up. In the end I was looking at it like 'this is schoolboy stuff'.
"If you see a player getting the ball too much then you need to try to stop him getting the ball. You can't always look at managers and have to look at the players on the pitch.
"If you're going to try and challenge for the top four you've got to do better as a unit especially away from home and I didn't see that which was frustrating. I'm an Arsenal fan and hope they have a good season but if they play like that then they obviously won't."
Win the chance to watch Chelsea vs Arsenal with Ray Parlour and try Papa John's new Deep Crust pizza. To enter, head to https://www.facebook.com/papajohnsuk/