Selangor
Andik keeps offers from Thailand on hold in order to remain in Malaysia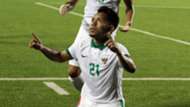 ---
BY        ZULHILMI ZAINAL       Follow on Twitter
---
After reportedly having parted ways with Selangor, Indonesia winger Andik Vermansah is reportedly considering offers from Thai and Malaysian clubs, according to his agent.
Mulyawan Munial told Goal's correspondence in Indonesia that the winger will depart the Red Giants, and has received serious offers from a Thai club.
"Andik is not with Selangor anymore, but he is sought after by clubs in Thailand, Malaysia and Indonesia.
"The offer from Thailand is serious but he is holding out as he wants to remain in Malaysia, and it is a number of offers," said Mulyawan.
Malaysian clubs have begun their search for Southeast Asian players, after earlier this week it was announced that beginning in the 2018 season, each M-League club may sign one player from the region on top of the four foreign players they are already allowed to sign.