Australia
'Half a dream come true' - Amini ready to justify Socceroos selection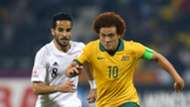 Ambitious midfielder Mustafa Amini has labelled his maiden Socceroos selection as "half a dream come true".
Amini - who was identified as a future star when he made his A-League debut as a teenager - was named in Ange Postecoglou's final group of 23 on Tuesday. But the 23-year- old has made it clear he won't be satisfied with simply being part of training sessions as Australia prepare to play Iraq and United Arab Emirates in World Cup qualifiers over the next fortnight.
"It's sort of half a dream come true. At the end of day, yes, I've been selected in the squad but, of course, I want to help the team qualify for a World Cup," Amini told Goal. "That's massive and I want to be able to get the chance to debut and show Australia and show Ange what I can do as well."
Ange not afraid to play McGree
Being picked for the Socceroos capped off a dramatic week for Amini, who was the centre of a social media war between his Danish club AGF and former employers Randers in the lead-up to their Superliga clash on March 10. The midfielder left Randers for their archrivals AGF before the 2016-17 Danish Superliga campaign and his former club still haven't gotten over how Amini and his agent Buddy Farah negotiated the transfer.
In the lead-up to last Friday's game against AGF, which ended 1-1, Randers midfielder Kasper Fisker told TV2 Amini "left the club in a really bad way". That prompted AGF to purchase an advertisement in Randers' local newspaper that effectively told their rivals to 'p*** off', resulting in Randers CEO Michael Gravgaard appearing in a video on social media where he appears to use an Amini shirt as toilet paper.
Kære @AGFFodbold,
Vi glæder os til kamp i aften kl. 18.00!#harImeret oiletpapir #rfcagf #sldk #mereend1kam p #lokumshumor pic.twitter.com/SbuFi1GbZ6

— Randers FC (@Randers_FC) March 10, 2017
Amini described the somewhat comical spat as "banter" and insisted he had the last laugh thanks to Postecoglou's call-up.
"[Gravgaard and Randers'] sports director were not very happy with me [when I left] and they told me once I left that 'we didn't even want you and you couldn't even score' and now that I have five goals in the league, if I had stayed at Randers I would be the second top scorer in their team," Amini said. "So it was like 'thank you for your comments' and it helped and now I'm in the national team as well so a bit of a win for me."
The Sydney-born central midfielder has played 25 league games for AGF so far this season, producing five goals and two assists. AGF coach Glen Riddersholm has generally used Amini as one of two more advanced central midfielders in a 4-1- 4-1 formation.
Postecoglou told reporters on Tuesday that Amini's "maturity" in an "important role in his team" had played a key role in the latter's selection.
"I've been playing now consistent football for the last 13 months, 14 months - week in, week out - and it's been a good step for me," Amini said. "You know, playing 90 minutes and getting my fitness up and all those little things, and of course, being in a team that's struggling a bit in the league, you have to step up yourself."
Fringe Socceroos join dev. squad
The former Central Coast Mariners product declared this week's promotion to Australia's senior national squad was effectively a culmination of his European journey so far, which started with Borussia Dortmund in July 2012. Amini will play for AGF against OB on Sunday before flying to Iran to link up with the rest of the Socceroos, with Australia set to play Iraq on neutral ground on March 23.
"I've been waiting since pretty much I left Australia to get this opportunity. I've been in Europe now almost six years and it's been a long journey, and it's finally starting to pay off with my first Socceroos call-up, so I'm very happy with that."