Liga MX
America vs. Monterrey provides unlikely showcase of young Mexican talent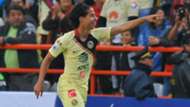 The cold reality is that in recent years if you want to see Mexico's best talent, the biggest Liga MX matches have not been the place to go.
With the exception of an Hirving Lozano-led Pachuca in the 2016 Clausura, most champions in the past several seasons have relied on foreign players to take them to Liga MX glory. The top goalscorers have been from either South America or Cape Verde. The biggest stars from Colombia, Argentina or France. So this weekend when title contenders America and Monterrey meet, it will be an unlikely showcase of some of the players El Tri fans should be enjoying for years to come.
There's America's breakout winger Diego Lainez, who is coming off a two-goal performance in Las Aguilas' win over Pachuca last weekend. The 18-year-old long has been one of the most prized prospects in Mexico, even after a disappointing performance at the Central American and Caribbean Games (that's one tournament, not two). That's because of the skills he showed last week, with his dribbling and finishing coming through as they did in the Toulon Tournament.
Rayados, perfect through three matches, arrive in the capital boasting a bevy of future Mexico stars. Midfielder Jonathan Gonzalez, Lainez's teammates in Toulon, is back into the starting XI under new manager Diego Alonso. It's early, but the midfielder is getting forward a bit more often than he did under Antonio Mohamed, a happy medium between where "El Turco" and outgoing Mexico manager Juan Carlos Osorio saw him.
They also moved for a pair of Mexican talents during the offseason. Jesus Gallardo has lined up both at left back, the position where the former Pumas winger played for the national team during the World Cup, and on the wing. Left back Leonel Vangioni is set to return from injury and Alonso can rework the back line. That may or may not include Cesar Montes, the 21-year-old center back who also took part in the Toulon Tournament and has been linked with various clubs abroad - though he denied that Mohamed contacted him to ask about a switch to Celta Vigo.
Up front, Alonso almost certainly will use Rodolfo Pizarro, acquired from Chivas during the summer window. Alonso has set Pizarro free as a playmaker, and he looks to be enjoying the freedom. Who wouldn't when he's able to play alongside players like Aviles Hurtado, Rogelio Funes Mori and Jonathan Urretaviscaya? Alfonso "Poncho" Gonzalez also has excelled after his move north from Atlas, though he's unlikely to feature Saturday because of an injury. 
It will come down to America center back Edson Alvarez, who like Gallardo was part of Mexico's back line during the World Cup, to stop one of the league's best attacks. Alvarez has started over Emmanuel Aguilera the past few matches for America and with the Argentine featuring in the midweek Copa MX match profiles to once again pair with Bruno Valdez.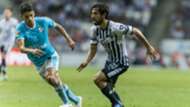 The youth showcase on offer will make for a fun subplot in an excellent league matchup, but it might not be what's best for the national team. Pizarro and Lainez both reportedly have had opportunities to move to Europe. Pizarro elected to take the more lucrative, and safer, offer from Rayados while America has refused to let go of their teenage star for a penny less than they believe he's worth. Yet, as Osorio and other managers in the Concacaf region have preached, development often happens most rapidly for players when they leave the region and challenge themselves in Europe. We've seen it from Mexico center back Carlos Salcedo and wingers Jesus Corona and Hirving Lozano.
Yet, there also are worse ways to advance in your career than playing regular minutes at a big domestic cub. That's what America and Monterrey are, and as benchings to some of the key players have shown they're also clubs where players have to compete to keep their spots. Whoever the next manager of the national team is will want to review the footage from Saturday's match to see what many of his young stars can offer to the national team. Mexico's future will be on display at the Azteca.