Liga MX
America, Cruz Azul must play to strengths in Liga MX final first leg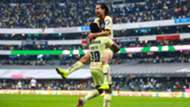 This is it. This is the final everyone wanted. 
America against Cruz Azul pits the team that has scored the most goals against the one that has allowed the fewest. It is two 'grandes' who have had very different fortunes lately with America looking to move atop the all-time titles table with a third crown in six years. Cruz Azul wants its first win since 1997.
America manager Miguel Herrera has never left home and wouldn't mind a repeat of the famous 2013 Clausura final when his reaction to winning looked like he was going super saiyan. Cruz Azul's Pedro Caixinha is a relatively calm manager who is looking to rebuild his reputation after a failed stint in Europe.
There are similarities, too. Each club employs one of the brightest young talents in Mexico with America's 18-year-old Diego Lainez scoring nearly every time he takes a shot and 20-year-old Cruz Azul midfielder Roberto Alvarado providing a versatile player for Caixinha who can fill several roles. Then, of course, there's the venue. Each leg will be played in the Estadio Azteca, with Mexico's most famous stadium hosting both games of the final for the first time since 2002 when America beat Necaxa.
Similar or different, what's certain is that when the first leg kicks off Thursday, everyone involved in Mexican soccer will be glued to the match. While fans of teams like Chivas, Pumas and Tigres are left with a difficult choice (another year of bullying Cruz Azul but having to listen to America, it still will be a fantastic contest between two sides that can say they've been the best teams in the league over the long-haul this year.
Cruz Azul is the superlider, having gone undefeated in the Azteca and losing only three times in the regular season and once in the Liguilla. America is undefeated in its last 15 league matches, losing only twice in the Apertura and entering Thursday's first leg after thrashing Pumas, 6-1, Sunday.
America was a team that was supposed to have problems with its attack this season. Those problems went away not with the addition of forward Roger Martinez, who has five goals this year, but thanks to what Las Aguilas have done when the ball hasn't been in motion. Bruno Valdez, a center back, is the leading scorer for either team with his seven goals. Five of those were headers inside the box. Cruz Azul allowed 10 goals inside the box this year, the fewest of any team in the league. Something has to give, but it will be fascinating to see which team is better able to play to its strengths.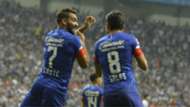 Should Cruz Azul shut down the set piece, which continues to be America's most dangerous weapon, Lainez will have to shoulder much of the burden. The team hasn't found much of a spark from the run of play without the teenager in the lineup, something that has made it even more puzzling to see Herrera's reluctance to insert Lainez into the starting XI more regularly. The manager now has seen what Lainez can do and looks to have given him a starting role for the immediate future.
Los Cementeros could use a spark as well. The defense has been solid, but the attack hasn't always fired for Caixinha. The playoffs have been evidence of that. After rolling to a 2-0 win in the first leg against Queretaro, Cruz Azul scored once in the home leg of that series and moved on thanks to a better regular-season finish in the semifinals after a win by the smallest margin against Monterrey in the second leg of the semifinal.
Milton Caraglio made up for his poor penalty against Rayados with the goal to send Cruz Azul through, but he, Alvarado and winger Elias Hernandez need to be clicking for the trophy drought to end.
Especially in the first leg, with both teams knowing there will be 90 more minutes to come Sunday, it may not be who can perform better on the weaker aspect of their game but rather who can best play to their strengths.