Young Africans
Ambassador Ambukile: We need you to fight for our country flag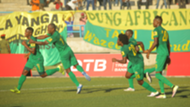 Tanzania's Ambassador in Botswana his excellency Sylvester Ambukile has urged Yanga players to fight in the name of Tanzania in their coming CAF Champions League second leg tie with Township Rollers on Saturday.
Speaking in the dinner between him and the Yanga squad which departed Dar es Salaam since Monday, Ambukile said that there is nothing to fear expect fear itself, he pleaded players to fight tireless and said that the victory will not be for Yanga but for the country (Tanzania).
"You have nothing to fear than fear itself, I wish you healthy preparation and I need you to fight for the flag of our country, said Ambukile.
Following their 2-1 home defeat, Yanga need a big victory on Saturday in order to book a place in the group stage of CAF Champions League.