Leicester City
Amartey undergoes successful surgery, expected to return in January, says agent Chibsah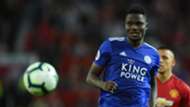 Leicester City defender Daniel Amartey had a successful surgery on Monday, according to his agent Yussif Chibsah.
The 23-year-old suffered an ankle sprain on Saturday while in action for the Foxes against West Ham United in Premier League.
It was initially feared that the Ghana international could miss the rest of the season but his agent believes he will return to action in January.
"Daniel Amartey is in good condition now after a successful surgery on Monday," Chibsah told Goal . 
"He will be discharged from the hospital later but I think the severity of the injury isn't so serious as we earlier thought. Following the comments from the doctors after the surgery, he is expected to spend two months in the treatment room so he will likely start playing in January.," he added.
Amartey, who has made nine appearances for Leicester this season including seven starts, will miss Ghana's game against Ethiopia in the 2019 Africa Cup of Nations Group F qualifier on November.