UEFA Champions League
Alli is coming! Spurs issue stark warning for rest of Europe with Madrid massacre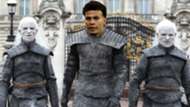 It was the olé's that sealed it. Tottenham, in the Champions League, at their borrowed home of Wembley, were taking the mickey out of Real Madrid, the European champions.
Zinedine Zidane's men came to town knowing that Spurs would be no pushovers. The two sides played out a 1-1 draw in Spain two weeks ago, and it was a game of tight margins. Real hit a post and Harry Kane hit the outstretched hand of Keylor Navas when clean through on goal.
Spurs 16/1 to win the Champions League
Tottenham fans not have foreseen what was to come but after netting twice in a resounding 3-1 win at Wembley, Dele Alli insisted he and his team-mates weren't the least bit surprised.
"We spoke after the game at their place and said we couldn't believe how much space we had at times and that the easy pass looked too obvious at times and we were too sloppy," the attacking midfielder told BT Sport.
"I think we knew that if we were solid at the back we'd get the chances and with the team we've got here we don't just want to be competing with these teams, we want to be winning.
"It was a fantastic performance from us. We stuck to the game plan and made a lot of chances - it could have been more but we're very happy with the result."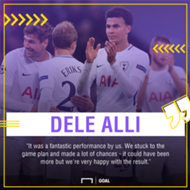 Alli wasn't exaggerating: the final scoreline flattered Real. Spurs played fantastically from the first minute, always dangerous, always alert.
They tested Marcelo at left-back a few times, urging Kieran Trippier to press into the space left behind the marauding Brazilian. The elegant Harry Winks spotted an opening in the 27th minute and sprayed the ball to the right-back. He was offside, but the linesman's flag stayed by his side, and Trippier crossed for Dele Alli – back after suspension – to slide in and score.
Wembley erupted. Spurs led, deservedly, as they had in the Santiago Bernabeu a fortnight prior. The difference this time out was that Spurs saw it through to the interval, emerging for the second half with renewed purpose.
Real tried to come back, Marcelo sending in a couple of teasing balls, but Spurs doubled their advantage just before the hour, with Alli's shot deflecting in off Sergio Ramos, whom he later nutmegged.
Christian Eriksen made it three just nine minutes later, finishing a peach of a ball from Kane. Spurs fans celebrated wildly initially, before the disbelief sank in: Spurs led Real Madrid 3-0. Supporters shook their heads, with smiles on their faces. Quite understandably, a party atmosphere erupted, each successful pass greeted with an olé as they pinged the ball this way and that.
Real were determined to have none of it and, as great teams do, kept pressing, and Cristiano Ronaldo scored his customary goal against Tottenham - he now has 10 against Spurs, his favourite English victims - with the Portuguese lashing home from six yards out. It was mere consolation, though.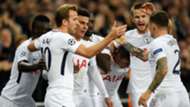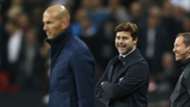 It will perhaps irk Mauricio Pochettino that this job could not be completed with a clean sheet, and it will certainly get to the goalkeeper, Hugo Lloris, who, despite playing through a knock, was terrific throughout the 180 minutes against the Spanish giants.
Pochettino is a perfectionist and he has long spouted the virtues of playing as a collective, particularly when asked about Kane. This was a night where his vision was fully realised. Spurs pressed as one throughout, they defended magnificently, and each player was willing to make sacrifices.
Kane did not score but he laid on an assist, he showed his brutish power when matched up with Ramos, one of the finest defenders in world football, and he continually found pockets of space.
Alli, too, showed that he belongs in this company. Suspension ruled him out of the first leg, but Pochettino warned prior to the game: "like winter, he is coming".
And as 'The Night King' did in Game of Thrones, Alli rose to down his foes, scoring twice – the first English player to do so against Real since Steven Gerrard – and playing with the sort of swagger and confidence that is either earned or unwarranted. On Wednesday, it was the former, as he outshined Luka Modric, Toni Kroos and Ronaldo. Five years ago, he was making his debut for MK Dons.
The importance of this result cannot be understated; Spurs were beaten at the weekend, losing 1-0 to Manchester United in a dour game largely devoid of incident. Here there was panache, flair and an attacking gameplan that should serve as a warning to every other club in Europe.
Spurs have not been a Champions League force since the days of Harry Redknapp as manager, but this side has more than just an inspired Gareth Bale. This is a team filled with matchwinners, as well as those willing to run through a brick wall for Pochettino.
With two games remaining, Spurs need just one win to top the group billed as the toughest in the competition when the draw was made. It would be an astonishing achievement, especially after their meek European surrender last season.
On their glory glory night, Spurs proved that they belong with the best. Zidane said afterwards that Spurs were, "in all manners of play, superior". It was quite the compliment and underlined that Tottenham have become a team to be truly feared.