AFF U19 Championship
Akhyar wants to reach AFF U-18 final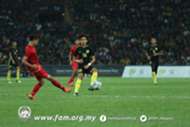 ---
BY        ZULHILMI ZAINAL       Follow on Twitter
---
Among the names that have emerged from the recent SEA Games men's football tournament is hosts Malaysia's own Akhyar Abdul Rashid.
The 18-year old forward was not quite a key player in Datuk Ong Kim Swee's squad, but everytime he was fielded he proved himself a threat to their opponents' defence with his nippy runs and unpredictable dribbling.
And the Kedah youth player's stock is rising. While his Malaysia U22 teammates got to return home following the conclusion of the SEA Games with the hosts winning the silver medal, Akhyar is far from finished.
Almost immediately after the tournament, he joined the Malaysia U18 training camp, in preparation for the 2017 AFF U-18 Youth Championship which kicks off this Monday in Yangon, Myanmar.
Surprisingly, although the team's coaching staff has revealed that they have not set a specific target for their new charges in the tournament, Akhyar told Goal that he wants to reach the competition's final match.
"My personal target is to reach the final match. This is because we haven't reached that far previously.
"So I hope we can create history by reaching the final this year, God willing," said the youngster when met just before the team departed for Yangon on Saturday.
We also asked him about his feelings on celebrating the Aidiladha celebration away from his family on Friday. 
The Islamic celebration was celebrated on Friday in Malaysia, and the team was gathered in the centralised training camp.
"My parents have visited me before, but they went off to celebrate Aidiladha in Melaka. I do feel a little sad about not getting to celebrate it with them, because I haven't been with the whole family for about two months! I have been away for the AFC U23 Championship qualifiers, the SEA Games and then now the U18 AFF.
"Yesterday (Friday) we visited one of the coaches' house, and then returned to the dorm to celebrate it quietly among ourselves," revealed Akhyar.
Malaysia have been drawn in Group A alongside 2016 runners up Thailand, Timor Leste, Laos, Cambodia and Singapore. Meanwhile Group B will be contested by Vietnam, Brunei, Indonesia, the Philippines, hosts Myanmar and invitational team New Zealand.
The top two teams from each group will meet in the single-legged semi-final stage, and the winners in the semis will meet in the final match. In the previous edition, Malaysia's campaign ended in the group stage, finishing third in Group A behind Vietnam and Timor Leste.
Malaysia's campaign will begin against Laos on 4.30pm Malaysian time September 4 at the Aung San Stadium. They will then face Singapore (September 6), Timor Leste (8), Cambodia (10), and Thailand (12).