Nathan Aké
Ake unfazed by £20m price tag as he aims to make his mark at Bournemouth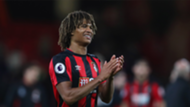 Nathan Ake has revealed his determination to prove himself at Bournemouth and says he is not worried about the £20 million fee Eddie Howe's side paid to sign him.
Ake spent most of last season on loan with the Cherries and although he was recalled by Chelsea in January, he only made four starts in four months as Antonio Conte's men stormed to the title.
Bournemouth 3/1 to beat Newcastle
The Netherlands international defender was highly regarded at Stamford Bridge but Bournemouth convinced them to sell, with Ake now insisting he is focussed on giving his all for Howe's men.
"It has been okay," Ake said when asked about the pressure of the move. "I put pressure on myself so I don't really care about the price tag and things like this. I just want to do well every day, every game.
"There are a few games I haven't performed really well but the last few weeks it has been getting better so I have to build on that. That's why I wanted to come here [to take responsibility]. I won't say I am a 100 per cent starter but I am happy that I am playing at the moment and am learning from that so I am happy for that.
A post shared by Nathan Aké (@nathanake) on May 22, 2017 at 3:40am PDT
"Obviously it was disappointing not to get a draw in the end. The first half we were a bit under pressure, they created some chances. We tried to defend and let the game be 0-0 and we did that until half-time.
"The second half we wanted to build on that and maybe go forward a bit more but after seven minutes we conceded so that was a bit of a disappointing thing."
Bournemouth have made their worst start to a Premier League season since their promotion in 2015 and sit in 19th place after 10 games, with their latest defeat coming against Ake's former side Chelsea on Saturday.
He has, however, seen signs of improvement and is expecting the results to pick up in the coming weeks.
"The last few weeks we have been playing much better, a bit more like us," he added. "Maybe today was a bit different because a team like Chelsea are going to have a bit more of the ball, but the last few weeks we have been playing much better and the team has got confidence for the next few weeks.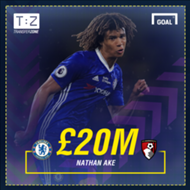 "We have changed formation a few times to be fair. We tried to match them today with the formation. Today it worked okay. The first half we conceded some chances but the second half we were quite resilient and it worked well with the central defenders we have.
"Obviously we don't want to be there this season [in the relegation zone]. The first few games we didn't perform well. The last few weeks we have been performing a bit better and getting more points but now is the time to kick on.
"The next game is Newcastle and for sure we go there with confidence and want to get the three points and get out of the relegation zone."