UEFA Champions League
Aguero about to break the record but is he doing enough to impress Guardiola?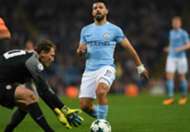 Manchester City are doing so many things well at the moment that it's difficult to pick out a weakness, but if you were to find one then there is no doubt that they could do with brushing up on their finishing.
Shakhtar Donetsk in the Champions League provided probably the best test City have had this season. On the weight of chances created, the Ukrainian champions should have been defeated by a far wider margin than 2-0 at the Etihad.
Pep Guardiola must have endured sleepless nights last season when running over the opportunities his side squandered in matches which – arguably – cost them a Premier League title challenge.
Here against Shakhtar, those familiar failings were threatening to resurface. Supporters were expecting the net to billow in the first half when Kevin De Bruyne raced clear before shooting wide. Leroy Sane then missed a very presentable chance. In the second half, substitute Raheem Sterling contrived to miss an open goal with a left-footed effort when it appeared easier to score.
What was required at 1-0 was a goal to put the matter beyond doubt; to tell Shakhtar they were beaten and ensure a smooth finish.
Ederson then set Sane away with a precision piece of distribution and the German won a debatable penalty. Here, then, was Sergio Aguero's chance to not only write off Shakhtar but to write himself into the City record books as their joint-top scorer.
For those keeping count that's five of his last seven penalties that the Argentinian has now missed in the Champions League. He's missed five of his last 15 in all competitions.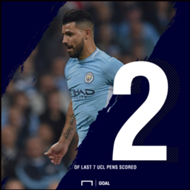 Guardiola is very dismissive of these kind of statistics; "He will score the next one," is the usual refrain. That may well be true. Aguero will undoubtedly put away at least one more penalty for City and will undoubtedly usurp pre-war hero Eric Brook in the goalscoring charts any day now, but his current travails extend far beyond the penalty spot.
City are creating so many chances that the odd one missed here or there makes little or no difference. It could mean winning 4-0 instead of 5-0. But it's in Aguero's all-round game that the cracks are ever most noticeable.
The 29-year-old completed only eight passes in his 85 minutes on the pitch against Shakhtar and touched the ball 23 times in total. Bear in mind seven of those touches were shots – including the penalty – and you can see how badly Aguero is struggling for involvement in this City lineup. Goals will come; Guardiola teams will always require a forward to apply the finish but there is so much more that the Catalan expects from his frontmen that he didn't get from Aguero on Tuesday.
It's why Gabriel Jesus was summoned from Palmeiras last January; to shame Aguero into upping his work rate. That's why Alexis Sanchez was pursued so zealously over the summer. He is no more a refined striker than Aguero – far from it – but his industry is rare and much closer to what Guardiola needs.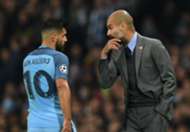 To be the centre forward in this team is a luxury. Kevin De Bruyne and David Silva are loading bullets left, right and centre. Jesus, Sane, Sterling and Bernardo Silva are conjuring crosses and through balls. Benjamin Mendy, who's now sadly injured, and Kyle Walker have been overlapping and finding their forwards with telepathic ease. All Aguero has to do is stand still long enough and he'll soon find a ball hitting him.
But that's not enough. There are no sacred cows around here anymore as Guardiola has proven with the jettisoning of Joe Hart and the demotion of Yaya Toure. Even when fit Vincent Kompany will struggle to get back in Pep's ideal XI. The only one of the old guard retaining any sort of non-negotiable stature is Silva and that's because he fits the paradigm of a Guardiola player to a tee.
Aguero knew he had to work hard this season to stay uppermost in Guardiola's thoughts. For the most part he managed that well through the opening weeks. His hat-trick against Watford was full of promise for the campaign ahead, demonstrating compatibility with Jesus as well as a tenacity not always associated with the Argentine.
But against Shakhtar, Aguero was a dud while Jesus got the hook early in the second half after failing to impress on the right side of the attack. This was the first time in a long time that City were genuinely stretched – a meaningful contest – and Aguero was nowhere to be found.
Aguero was warned at the start of the season that although he is preeminent in terms of his City goalscoring achievements he can no longer always consider himself Guardiola's top pick in attack. It was the games against the rest of the top six last season – one point against Tottenham, one against Liverpool and none against Chelsea chief among those results – that really put a dent in City and Pep's ambitions. 
Aguero has got to demonstrate starting this weekend against Chelsea that he is capable of satisfying Guardiola's demands against the serious teams contesting titles as well as the also-rans hoping simply to avoid a hammering.
Guardiola has a ruthless streak a mile long if he thinks a big call could improve his team's cohesiveness. Aguero will know that being City's all-time goalscoring record holder will count for little if he cannot keep up his end of the bargain – to work hard and score.
There isn't a City fan alive who doesn't love him but Aguero learned a long time ago that there is only one man he needs to impress at the Etihad. And he's not sitting in the stands.