Leopards
AFC Leopards warns fans over fake merchandise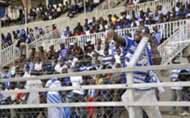 AFC Leopards have moved with speed to warn their fans over sale of fake merchandise.
In a terse statement obtained by Goal and signed by club chairman Daniel Mule, the club has cautioned fans to be vigilant and report any suspicious sales of clubs branded merchandise to any official or the secretariat.
Gallery: KPL midfielders to watch in 2017 season
The statement comes days after it emerged that some officials had already started selling club's merchandise ahead of season kick-off. Mule has now urged fans to remain patient as the club works out on ways to secure merchandise for members at a reasonable price and of good quality.
"There have been ongoing plans to secure merchandise but following suspicions surrounding presence of some unsanctioned replicas that have purportedly been imported into the country, the plans have been put on hold until investigations have been carried out on the same.
"A report of the unsanctioned replicas has been made to the anti-counterfeit authority and to the CID for investigations and apprehension of those involved. The merchandize will therefore, be procured once all this has been cleared by the authorities to the satisfaction of the committee.
Gallery: KPL defenders to watch in 2017 season
"We urge our members to be vigilant and report any suspicious sales of the clubs branded merchandise to any club official or to the secretariat. As the national executive committee, we shall endeavor to make sure that the club and members interest come first and are always protected."