Bengaluru
AFC Cup 2018: Bengaluru FC's Mandar Tamhane says aim is to win the trophy this year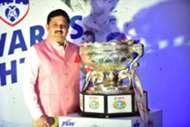 Indian Super League (ISL) runners-up Bengaluru FC have been drawn against Turkmenistan club Altyn Asyr in the Inter-Zonal semifinals of the AFC Cup 2018. The Super Cup winners will play the first-leg at home on August 22 before travelling to Turkmenistan for the return-leg on August 29.
Speaking to Goal after the draw was held, Bengaluru FC Chief Technical Officer Mandar Tamhane expressed relief at avoiding North Korean side 4.25 SC though he maintained that the draw was tough as ever.
"It's a tough draw as always. Like I always maintain, the teams that are reaching here are here because they are very good. Any team that we could have drawn would be difficult. The only hindsight we can be thankful about is we don't have to go to North Korea. It was a task last time round when we had to go to North Korea. We still can if we win and they win," the Bengaluru FC CTO said.
The Blues had become the first Indian side to reach the final of the continental club competition when they went down to Iraqi outfit Al-Quwa Al-Jawiya by 1-0 in the summit clash of 2016. They aim to go one step further this time according to Tamhane.
"The target is to win the AFC Cup. We have to because at the end of the day we have been there before. As a club, we have to keep on improving. Obviously wherever we go, even if we are not a part of the Zonal finals or AFC Cup finals, it just that we have to try to do our best. If you ask me what the goal is, it is to win the AFC Cup," Tamhane stated about the ambitions of the club this year.
Altyn Asyr have won Turkmenistan's first division league for four years running now and will be a tricky opponent. Despite that, Tamhane is not too concerned about having to play the second-leg away from home.
"Not really because I would look at it the other way round because for us the season changes now. We go into a new season. So we will be able to be in Bangalore and play the first leg there," he said before signing off.