Adidas Tango League thrills frenzied football fans in Singapore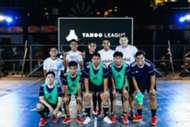 Football took over the streets in Singapore on Friday evening as the adidas Tango League came rolling into town. The second edition of the Tango League,  a first-of-its-kind urban football competition,  hosted over a hundred attendees at SCAPE. 
Eight teams were selected to go head-to-head from numerous applications and went head-to-head in a battle to demonstrate footballing supremacy. Some of the lucky participants also had the golden chance of challenging star footballers of Singapore like Hassan Sunny, Izwan Mahbud, Shahdan Sulaiman, Izzdin Shafiq, Nazrul Nazari, Khairul Nizam, Fabian Kwok, well-respected football legend, Aleksandar Đurić and others.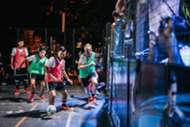 After an intense showdown between the competition's finalists, team Happy Family ("HF") and Team JSSL, Team HF emerged as champions of the second edition of Tango League and SGD 1,500 worth of prizes in a 5-0 victory. Team captain, 23-year-old Luis Lim Boon Keat shares, "Tango League is really a new concept and it was an amazing experience for us. Although the other team put up a strong fight, it was our team chemistry and on-court creativity that made the difference. My advice for the youths is to not be afraid to do something different. Creativity is everything – without creativity, football would be boring."
 
Tango League's MVP and winner of the adidas one-year boot deal who belonged to the winning team, 25-year-old Muhammad Nurul Islam Bin Abdul Razak added, "The competition was tough but our team managed to prevail. Football is not an individual game. Without the support of my team, I would not have been able to win the title."
On the sidelines of the event, Singapore international footballer 26-year-old Safuwan Baharudin was announced as the newest member of the adidas Creator family.