David Beckham
Adidas David Beckham Capsule Collection: Former Man Utd star launches new footwear collection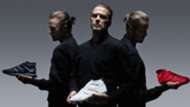 Adidas have teamed up with David Beckham to launch a new range of footwear known as the 'Capsule Collection'.
Beckham, who has long been associated with the sporting apparel giants, was involved in the design process, taking part in concept meetings during the development of the new collection.
The former England captain teased the announcement with a Facebook post in which he declared "big things" were coming and on Monday, October 30, the news was revealed.
A live launch was streamed on Beckham's official Facebook page showcasing the new footwear in action as the London 'Tango Squad' faced off in a five-a-side match, which the former Manchester United and Real Madrid man took part in.
So what is the adidas David Beckham Capsule Collection? Goal takes a look.
---
WHAT IS THE DAVID BECKHAM CAPSULE COLLECTION?
---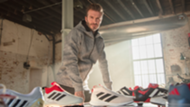 The David Beckham Capsule Collection features three new adidas shoes in three iconic colours (white, black, red) for three specific arenas (stadium, street, cage).
The first of these is the stadium boot, a 'remastered' version of the Predator Accelerator which comes in a triple-white colour scheme.
I'm going live with adidas Football. Can't wait for you to see what we've been up to. #createdwithadidas

Posted by David Beckham on Monday, 30 October 2017
"When I look back on the best moments of my career, the one defining theme of them all is the adidas Predator. It has always been there, helping me play my best when it mattered most," said Beckham. 
"That's why when adidas offered me the chance to design an updated version of the boot for on-pitch, in the cage and on the street, I absolutely jumped at the chance."
As well as a football boots designed for wear on grass, the Capsule Collection features a triple-black street shoe and a triple-red cage shoe (which are those worn by Beckham and the Tango Team in the promotional video above.)
Interestingly, each shoe has a different number stitched into the heel - based on the numbers worn by Beckham during his career. The number 23 features on the stadium boots, while the street shoes feature the number 32 and the number 7 is present on the red cage shoes.
---
HOW MUCH DOES THE CAPSULE COLLECTION COST?
---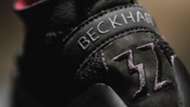 Prices for each of the shoes in the David Beckham Capsule Collection vary, but one thing is for sure, they will not be cheap.
The triple-white remastered Predator Accelerator boots are the most expensive in the collection and they will set you back £299.95 in the UK. The triple-black street shoes are slightly cheaper at £219.95, while the triple-red cage or astro-turf shoes are the cheapest at £179.95.
In the US the boots will cost $350, while the street shoes are $100 cheaper at $250 and the cage shoes are $220.
The boots can be purchased online at adidas.com or in person at selected stores.