Goal United
Academy View: Young Bafana meets Mamelodi Sundowns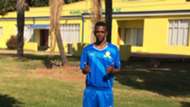 During the U18 Engen Tournament held in Cape Town over the long weekend Thurs 29th June - 2 July, it was time for a certain member of the Young Bafana U18 squad to shine.
"Yoyo" as he is known to his teammates was one of the few players who delivered.
He had an excellent tournament and lead his team by example and this did not go unnoticed. Young Bafana was approached by a Mamelodi Sundowns scout who was interested in having Yoyo join for a one week assessment in Pretoria.
Two days later he was on a plain headed to OR Tambo International Airport, where he was collected and taken to the Sundowns academy. He spent one week training with the Diski team and played a friendly.
When asked about his experience, Yoyo replied: "it was a fantastic learning experience and the team is on a very high level".
He has come back with a lovely new experience from which he will surely grow both as a player and individual.
Young Bafana founder Bernd Steinhage says, "it is extremely rewarding to see that eight years of hard work with these boys is starting to show. When these players, like Yoyo and his peers, joined Young Bafana they were forced to play barefoot in order to earn their boots after having successfully completed one full year at the academy."
There is never a guarantee for success in life, however, effective hard work and passion can facilitate it. 
Surely this is just the beginning of bigger things to come for Young Bafana, and its players, who continue to work hard and develop their players holistically with educational and soccer programmes across the Western Cape.
Yoyo, has returned to training with the U18 Super League team and is expected to finish the season on a high while aiming to pass matric with flying colours at the end of the year.
A big thank you to all Young Bafana staff, German interns and sponsors who are enabling our players to positively develop children from historically disadvantaged backgrounds.