Arsenal
AC Milan win gives Arsenal a 'psychological problem' – Wenger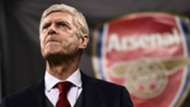 Arsene Wenger has said that Arsenal are faced with a "psychological problem" ahead of their Europa League last-16 second-leg clash with AC Milan on Thursday.
The Gunners go to the Emirates protecting a 2-0 advantage from the first leg, gleamed thanks to goals from Henrikh Mkhitaryan and Aaron Ramsey, but the veteran Frenchman has said that this brings its own pressures.
Certainly, after Arsenal suffered a 2-1 defeat to Ostersunds in the previous round after an apparently comfortable 3-0 first-leg victory, the under-fire manager was speaking from experience.
"Europe gives you a psychological problem," Wenger claimed. "When you have won away from home, you have to finish the job at home but it is not easy because it always puts the team who is playing against you in the position of having nothing to lose."
Moreover, he reiterated the importance of getting the support back on side after seeing his team play in front of dwindling attendances over recent weeks against the likes of Manchester City and Watford.
"I have played in front of sold-out stadiums for 22 years and I am grateful," Wenger said. "If there are one or two games and the stadium is not completely full, we have to look at ourselves and get the fans behind us again."
Given this attitude, he will be heartened to see a 'respect' banner in his honour at the ground for Thursday's encounter.
Arsenal have endured another torrid season. They lie 12 points off the pace of the top four in the Premier League and their chances of Champions League football next season appear to rest solely on their success in Europe. 
Meanwhile, they were eliminated from the FA Cup earlier this season by Championship side Nottingham Forest, while the Carabao Cup went to Manchester City, who breezed past them 3-0 in the final.