NPFL
Abubakar Bala downplays Kwara United's defeat to MFM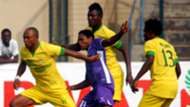 Kwara United head coach, Abubakar Bala has downplayed the importance of the outcome of their friendly match with MFM which they lost 4-1 on Tuesday morning at the Agege Stadium, Lagos.
The Olukoya Boys brought forth their armoury against the Harmony Boys and despite parading mostly new players, they were able to thrash Kwara United the way they did.
Goals from Stanley Okorom, Azeez Balogun, Kabiru Adeniji and John Oluwafemi ensured Kwara United were put to the sword in Lagos before Segun Alebiosu saved their blushes with the consolation goal in the 85th minute from the penalty spot.
"It was expected because I played most of the newly signed players in the first half and it was the reason they scored most of their goals in the first half because the new players have not been completely integrated into the team like those they met," Bala told Goal.
"We had to change a few things in the second half and the team played very well. We wanted to raise a formidable team and to succeed in that we must look beyond the result and concentrate on building a strong team.
"We have seen areas we must work on and I want to assure you that we are going to do that in Ado Ekiti in the preseason tournament we are taking part there.
"We are already on our way to Ekiti to enable us to rest a little before the start of the preseason tournament in Ado Ekiti.
"We are going there with high optimism that we want to remain on the lane we have set ourselves and ensure that we play games that will enable us to be ready for the start of the season. We have the players and the determination is there to get the job done."