Antonio Conte
Abramovich trusted me - even after Arsenal defeat, insists Conte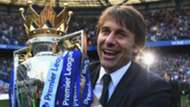 Chelsea's 3-0 loss to Arsenal has been described as the most pivotal moment of the club's season and Antonio Conte revealed what happened as Roman Abramovich took a closer interest in his manager. 
Conte pays respect to Wenger's Arsenal career
The Russian billionaire came to watch three first-team training sessions in a row in September and had a few lunch meetings with Conte at Cobham Training Centre after the loss. 
Conte decided to switch to a 3-4-3 formation after the defeat and drilled his players in the new formation which led to a 13-match winning run across the autumn and winter fixtures. The Blues manager revealed that Abramovich never lost faith in him and said that he was supportive as Conte overhauled the team's tactics.
"He came for three days to watch our training sessions, to watch the video analysis, to stay with us. He supported me," Conte said at a news conference at Cobham Training Centre. "He never showed me he was angry.
"I think the club always saw my job, during pre-season and in that period, and trusted in my job. I never thought the club was thinking about sacking me. Honestly."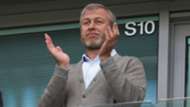 Speculation grew that Conte was set for a sensational sacking after Abramovich's visits to the training ground and several bookmakers in the United Kingdom had suspended the betting on him leaving Chelsea, as they believed his exit was guaranteed. 
Diego Costa almost quit football
Abramovich has been as engaged as ever with Chelsea this season, attending Conte's first game as manager in pre-season versus Rapid Vienna, while he was seen chanting Conte's name and lifting the Premier League trophy against Sunderland last weekend. 
Conte has delivered success to the club's owner by switching to a three-man defence that he used while he was the manager of Juventus. However, the Italian admitted that he did doubt his side's title chances after the loss at the Emirates Stadium.
"It was very difficult to think about celebrating winning the league after the Arsenal defeat," he added. "To think we'd arrive at the end of the season and be celebrating winning the league. Honestly, that felt very difficult.
"Not impossible but, in that period, we had a lot of big problems to solve. To find the right solution quickly is not easy. You must be very good, very prepared, but also lucky in these circumstances.
"And you must also have the players to give you the possibility to impose your ideas, your changes, and everything you are thinking in that moment. For that reason, I was lucky to have a group of players who put themselves in Chelsea and my ideas of football, and we put ourselves in a position where we could secure a fantastic title and celebrate.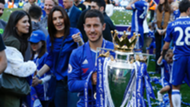 "At the start of the season, if you'd said we could qualify for the Champions League, I'd have signed for that. Then I found great players, and we were able to change our season."
Batshuayi good enough to replace Costa
Chelsea will return to the Champions League and they will go into pot one with the champions from various leagues across Europe. Conte has already raised a glass of champagne to toast winning the title in his first season but celebrations were relatively subdued on Sunday as the club capped off their league season with a 5-1 win over Sunderland. 
Conte went to a Fulham restaurant with his staff after the 1-0 win over West Bromwich Albion, which secured the league title, but he admits he may do something special if he achieves a double. 
"I don't like champagne a lot," Conte continued. "I celebrated, for sure, with my staff. We had a dinner together, and we had 'cheers'. It's right to enjoy this moment because if you win after a strong season like this, it's right to enjoy it. 
"The low from a defeat is longer than the high after a win. I don't smoke, but tomorrow I'm hoping to smoke a cigar if we win. I'm ready to do this."