A-League
A-League expansion could be delayed until 2020-21 season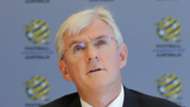 New A-League teams might not be seen in the competition until the 2020-21 campaign because of the change in the Football Federation Australia's constitution.
Tuesday's historic FFA congress meeting saw chairman Steven Lowy forced to leave the organisation, with the vote now giving extended rights in Australian football management to clubs, players and women's football.
But the shake-up means several key issues could be put on the back burner - as a new FFA board won't be appointed until next year.
The new A-League expansion teams were set to be announced on October 31, but existing clubs believe the decision will be pushed back until the new FFA is finalised.
If expansion is officially announced next year, then it likely won't give the new teams enough time to set their squads up before the start of the 2019-20 season.
Head of the A-League Greg O'Rourke promised that expansion would definitely still go ahead, but couldn't give an exact timeline on the process.
"What I would say is that [the constitution change] is not going to put expansion off. That is an option that is not even to be considered by anyone," O'Rourke told FTBL.
"The spanner in the works is that I'm not entirely sure that the board that will meet in October – probably for the last time – will even want to make a decision.
"You'll have other stakeholders suggest that it will be logical to wait for the next board to be constituted to go through the work the FFA management team has done and then make their decision based on that.
"I'm very clear on the options that face me – but I'm not very clear on what that board will decide."
A decision on the timeline for A-League expansion will be made at the FFA's final board meeting in its current state on October 16.