Nana Frimpong

COMMENT

Follow on
To the casual observer, there were two things easily discernible prior to the Ghana - Mali game that seemed markedly different from what was witnessed during the Black Stars first outing at the 2013 Africa Cup of Nations.
The first was Kwadwo Asamoah's name appearing farther down the team sheet, that is, in his natural midfield role (in the 'hole' behind striker Asamoah Gyan) than the rather uncomfortable left-back's job he had been entrusted with in the Black Stars' last few games.
The other - and perhaps of lesser significance - was coach James Kwesi Appiah's not entirely ill-informed decision to omit from his now customary sartorial outfit, the hardly complimentary, XXL-sized, poor choice of a necktie he wore for the previous match.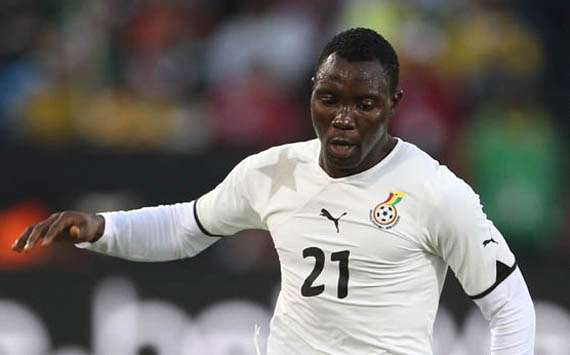 GOOD DECISION|
Appiah listened to the voice of the people and moved Asamoah farther
In place of it, he wore nothing. Depending on what perspective one analyses football games from, one or both of those decisions could have had an effect on the improved result the team managed on the day. Either way - or maybe it would suit the intent of this piece better if we briefly forwent the issue of Appiah's personal preference in fashion - those changes reflected a certain desirable trait that perfectly aligns with his mild persona.
As pragmatic and headstrong as Appiah has proved at times in his brief Black Stars coaching career, last Thursday's events showed him to be quite amenable and willing to adjust when the right advice is yelled loud enough. Appiah's employment of the Juventus midfielder in that oddest of positions in the pre-tournament warm-ups against Egypt and Tunisia seemed queer enough to most, yet it threatened to make the coach look even more foolish at the tournament. Even worse, it could prove a liability that would render the team's campaign a doomed one.
To be sure, not a few people raised such reasonable concerns. For the first game, however, the coach seemed to ignore those genuine calls, and the Congolese, with their dangerous forwards, did not fail to exploit that weakness, scoring two goals that were somewhat a consequence of the former Udinese player's defensive inefficiencies.
The fact that the four-time African champions' own goals (which the Leopards found equalisers to, anyway)
came on the two occasions the ex-Udinese man truly bombed forward - one he scored himself, the other courtesy his assist - only gave volume to talk back home that Asamoah's attacking and creative talent was clearly being suppressed, even wasted, in defence.
Apparently, this time Appiah had heard enough and now began to reason on the basis of the glaring evidence, thus the change of mind it prompted against Mali. Needless to say, Appiah's re-positioning of Asamoah failed to come off to great effect, thanks to a largely uninspiring and oblivious display from the 24-year-old.
Perhaps, though, he was only adjusting to his return to familiar surroundings and would regain consciousness soon, hopefully starting with the final group game versus Niger on Monday. Should the Ghanaians progress from Group B - which is almost a given - Asamoah would certainly have much to contribute to Ghana's quest for glory, but only if Appiah maintains a receptive heart and sticks to his decision to keep the player in his favoured spot.
If it pays off, he would surely be glad he did. Enough said. Now what was that about his tie having less panache than, er, a sack of potatoes?