Right to Dream pupil Fuseina Mumuni has been named in the Ghana Under-17 team ahead of the Fifa U17 World Cup in Costa Rica.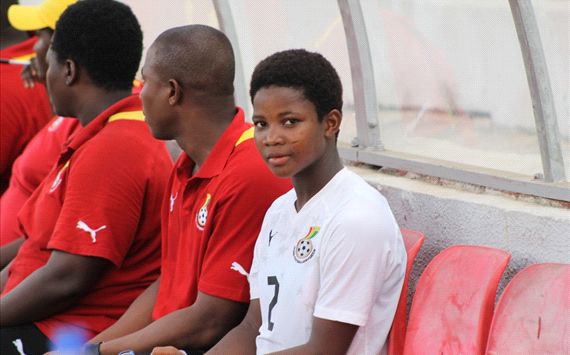 EYES ON THE PRIZE | Mumuni aims high with the Black Maidens
After coming through a successful four-week trial in the national camp, the RtD pupil was included in the Ghana team that is on a two-week pre-tournament camp in Alabama, USA.
Mumuni made history in February 2013, when she became the first RtD female player to play for Ghana after playing in the first half of the Ghana vs Nigeria U-17 international friendly game in Accra.
Mumuni commented on her historic achievement, coming just nine months after the RtD Girls academy was established.
"When we played against Nigeria, many of the girls were bigger than me but I was always determined to play against them," she told Goal Ghana. "The national camp is a little different. I had a lot of challenges but I always told myself that I have to make it and I worked hard at it."
Two RtD students, Mumuni and Louisa Essuman, were initially drafted into the national team after impressing the management during a recent friendly game at RtD.
Mumuni said she will work hard to create more opportunities for her colleagues to join the Ghana team in later years. "I'm going to try my best at the World Cup so that my colleagues will also get the opportunity to play with the national team."
Ghana will be hoping to make a big impact at the forthcoming FIFA U-17 Women's World Cup in Costa Rica, having won Africa's first female medal in international football under former RtD coach, Mas-ud Dramani in 2012.
Mumuni is confident Ghana can win the trophy this time around.
"We're going to do our best at the World Cup. I think we can win the cup because we won bronze the last time so we will do our best to win the trophy this time around. We will work hard and do what the coaches tell us to do," she concluded.