Exclusive
By Edmund Okai Gyimah
One of the few players of African descent to have been fortunate to play for one of England's junior national teams, Thomas Boakye, has emphatically stated that it will be "weird" to snub Ghana for the Three Lions.
The 20-year-old Ghanaian winger, who currently plies his trade with Swedish side Ostersund FK, was an integral part of the English national Under-18 team in 2009-10.
"It was exciting playing for England, they pick on trials so no matter which country or race you are from if only you are good they will pick you. I really enjoyed playing for them," calm looking Boakye recalls as he sat with Goal Ghana at his plush Teshie residence.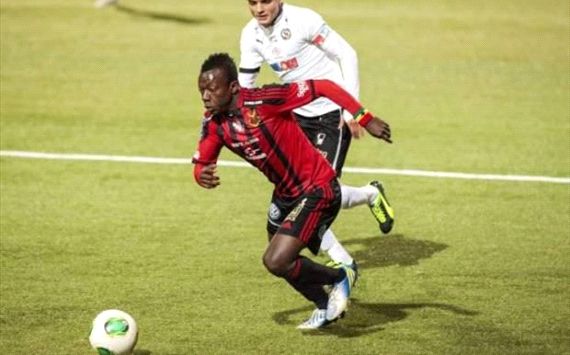 Among the second batch of graduates from Tom Vernon's Right to Dream Academy at Akosombo, Ghana, Tom as he is affectionately called disclosed that from infancy his dream was to be a footballer and his family has been behind him through thick and thin to achieve that aim.
"My family has been very supportive, no matter the difficulties they were going through, they gave me all the support to succeed. They gave me the right development and training at home so when I went to Right to Dream at the age of 10 things were not difficult for me."

After a fantastic season, Boakye was named in the Superattan Best XI for the term and when asked about how he felt in being named in the All-Star team, the young wide man explained that it was great and an honour.
"Normally I don't look into awards. I just want to perform, anything that comes up is a bonus, it was indeed great for me to be named in the league's best XI," he remarked.
Beaming with smile and his usual calm nature, Boakye emphasized that the road has never been easy but his determination, perseverance and hard work have seen him through.
"At the age of 10 in 2004 I was enrolled at the Right to Dream Academy, I worked hard and gain a free scholarship to Hartpury University College alongside Majeed Waris, Isaac Telly Shaze, Sam Mensah and others to play football and also learn. Right to Dream and the England Under- 18 were very key to my development.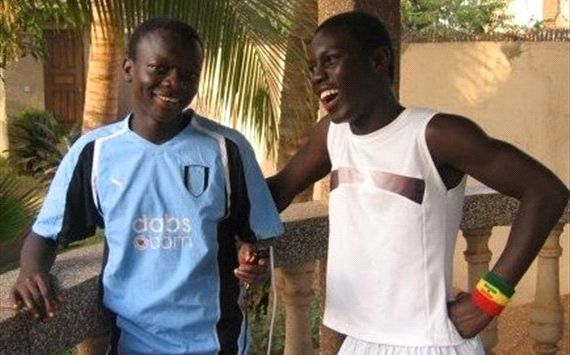 FLASHBACK | Boakye and Waris at the Right to Dream Academy years back
"When growing up Paul Scholes was my role model. I always dreamt of following his footsteps and getting to the top, he is one of the greatest and disciplined players I have ever seen. As a young footballer is all about determination," Tom pointed out.
The budding talent, who featured for the Ghana U20 team (Black Satellites) in 2010-11 said he will turn his back at the Three Lions should the FA invite him at the senior level because Ghana is on his heart.
"It will be weird for me to play for England again, in my heart I want to play for the Black Stars and I am looking forward to that," Boakye revealed to Goal.
Right to Dream has been the brain behind the success of many young Ghanaian players making it big in Europe, Boakye revealed how the Academy has changed and continues to change the lives of many talented youngsters.
"Right to Dream helps to develop players, they give opportunities, and scholarships for players in the Academy to go to UK, and U.S to study and also play football, in the academy there is nothing like free time, sometimes the little chance you get you have to do your own training and not sit idle as pertains in other academies. The academy offers extra mentality which is helping community and nation as a whole.
"The academy is still like a family and all those who have graduated are still part of the academy, always they call us who are outside to encourage us, give us advise nutritionally and other general things."
Boakye said all is well with him in Europe.
He added: "When I came to Sweden the first thing I searched for was a church which I could worship and become close to God and I found one. I go to church twice a week that is Thursday and Friday and also I am undertaking some classes in the Swedish language so everything is cool. We the Africans in Sweden are one, we are more than brothers so if you are facing difficulties your African brother will always help you which is very good."
The new season starts in March/April with the pre-season coming off in January. About his target for next term in the Superratan, he said: "I want to go all out and play well next season in order to help my team get to the Allsvenskan."
As the saying goes, behind every successful man is a woman and behind Boakye is a pretty Swedish lady Maya. "She has been very helpful and been besides me through thick and thin. She is always there for me and encourages me a lot."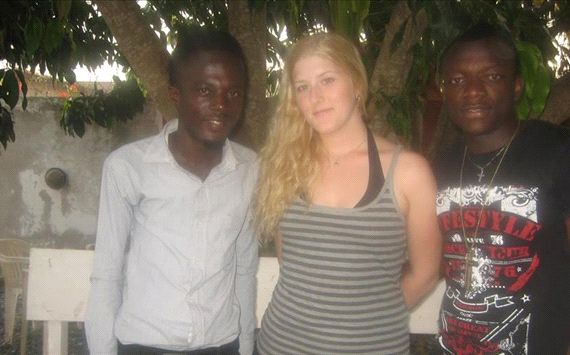 Goal's Okai Gyimah (L) poses with Maya and Tom
"People should keep supporting me in prayers. My aim is to break into the Black Stars team soon, and I cannot wait to do my best to achieve success to make my fans and the people of Ghana happy," Boakye concluded.