Exclusive
By Fiifi Anaman
Mahatma Otoo remembers his first ever season in Ghana's top flight. That was in the 2008-09 season, with Premier League side Sporting Mirren. Otoo was a 16-year-old boy going on 17 - full of energy, full of promise. The nostalgia is still not lost on him.
"You know, it was my first year. I was just running helter-skelter. I didn't really know what I was doing on the pitch. I was just trying to play the ball, to follow it everywhere it went," he laughs. "But now I've grown up. I've learnt from my past. I'm still learning in fact as a young player." Otoo might have thought he seemed clueless, but everyone else apparently thought he was a solid talent. He was named the most promising player for that season.
Three seasons afterwards, Otoo is now Ghana football's hottest property. He's also the captain of arguably one of Ghana's biggest if not the biggest club - Accra Hearts of Oak. And he's only 21 years old.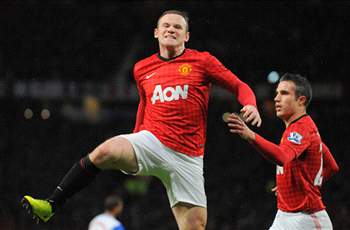 "I studied the way Rooney in particular played and applied it to my game. It has been helping me a lot."
This has been his best season yet. Not because he is scoring rampantly (he has scored 18 goals in 27 games in all competitions currently) but because his performances earned him a call-up into the national team. This was after representing Ghana literally at all the levels available - the Under-17 (Black Starlets), U20 (Black Satellites), U23 (Black Meteors) and the local Black Stars team. He is the rare product of a normative system. No player in the current Black Stars set-up can boast of this.
And it is indeed an achievement for Ghana football, that a player has been trained through all the levels and is now ripe for action.
Otoo recalls that the call-up he received against Sudan last month – widely reported to have been his debut call-up – was actually his second. "I played in a friendly against Argentina in far away Buenos Aires aged 17 in 2010. I was very young by then, I remember coming on in the second half. It was very exciting for me as young player to be in the national team."
"The recent call-up was a great feeling, you know, playing alongside the likes of Sulley Muntari and Asamoah Gyan. As a player I was very excited. It really motivated me to see Muntari for instance encouraging me on the pitch, telling me 'Hey you have a great talent, you can make it in Europe. Don't worry, your time will come. Just keep on working hard'."
"Growing up, I saw Muntari play, and now to play with him and to have him motivating me? Wow," he sighs. "It was one of my greatest feelings."
Otoo's story is a clear case of a dream come true. Growing up in the Accra suburb of Mamprobi, he found joy playing in Street football, and dreamed of making it as a striker. He recounts having to play for the school teams or all the schools he attended, from primary school to Senior High. He joined colts team King Harrison babies, and it was there that he was discovered.
"One time, Ashford Tetteh Oku (his current manager) and Fred Crentsil (former Hearts CEO and current vice president of the GFA) saw me playing for Harrison Babies. They had this team called Sporting Mirren close to where my team trained, and they asked me to come and help their side qualify for the Premier League.
"My club president accepted, and I joined them in the First Division. By God's grace, my first season went well, I was able to qualify them for the national middle league, scoring about 10 goals."
Otoo remembers how he got his break in the national U17 team. "I remember in one of my matches at Mirren, (GFA President Kwesi) Nyantakyi and (Veteran and then National U17 coach) Afranie came to watch the game. It was against Mitdjiland and I scored two goals. E.K Afranie was happy with my performance and invited me into the team."



The recent call-up was a great feeling, you know, playing alongside the likes of Sulley Muntari and Asamoah Gyan. As a player I was very excited. It really motivated me to see Muntari for instance encouraging me on the pitch






- Otoo
Otoo progressed through the ranks and eventually got promoted to the U20, becoming their captain in the lead up to the 2011 Africa Youth Championship. He scored a goal in the qualifiers, but the team failed to click in the tournament, resulting in early elimination. That set-back did little to Otoo's confidence. Black Stars coach Kwesi Appiah invited him to join his U23 team which had qualified for the 2011 All Africa games. Otoo again, was made vice captain. His leadership skills shone early on.
At that tournament in Maputo, Otoo exploded. He scored four goals in four matches, securing gold medals for Ghana. "It was a good tournament," Otoo says. "One of the best tournaments I've had. Plus I can proudly say I've won a gold medal for Ghana. I was the goal king of the tournament too."
Otoo's exploits saw him arrive at Hearts when he was 19. His first season saw him net 10 league goals and also earned him the league's best player of the year award. That breakthrough season saw him land a loan deal with Tunisian and African giants Esperance, at which he had problems. "What happened was that the coach had a problem; you see, the management there at that time bought me, not the coach, so that's where the problem was."
"I only played in the reserve league for them, I was young by then," he recalls. He says that setback did not affect him at all. There was after all, a silver lining. "Even though I was playing for the reserves, I got the opportunity to be on the bench for the senior side in the Caf Champions League, and I have a silver medal to show for it," he says proudly. That's what's unique about him – his positivity.
When Otoo touched back down in Ghana, he knew he had to keep working hard. Hearts were in turmoil in the second round of the 2010-2011 season when he arrived, and his goals helped them to finish the season in a respectable position.
His next season – last term – went well. He scored 10 league goals and two FA Cup goals. By this time, he had established himself as a cult hero amongst the legions of Hearts fans, admired for his hard work and consistency. And his all-roundness; Otoo – affectionately called 'CEO' by Hearts fans - is a complete striker, an equally good goal creator as a goal getter. And amongst other things, a leader.
Former coach C.K Akonnor made him captain even though the position was being held by the much more experienced Godwin Osei Bonsu. "CK came up to me and said 'Hey, I like the way you're playing, I like your fighting spirit as well. You're a player who always wants to win and I believe if I make you the captain, it will help the club a lot'," he recalls.
"I don't think the captaincy has changed me. I've always played like Mahatma. I never want to lose in a game, I always want to fight hard to win."
"Growing up, Peter Ofori Quaye (former Ghana International who made his name at Olympiacos in the late 90s) was my role model, he was also from Mamprobi. He used to advice me a lot. I had others like Sam Johnson and Stephen Appiah, but it was because Ofori Quaye was a striker."
Foreign role model? "When I was growing up I had Thierry Henry, I liked the way he was playing at Arsenal…"
"But you don't play like Thierry Henry?" I asked. "I know," he had a smile on his face. "Later on, at a point, I saw Samuel Eto'o and Wayne Rooney and noticed I had similar qualities."
"I studied the way Rooney in particular played and applied it to my game. It has been helping me a lot."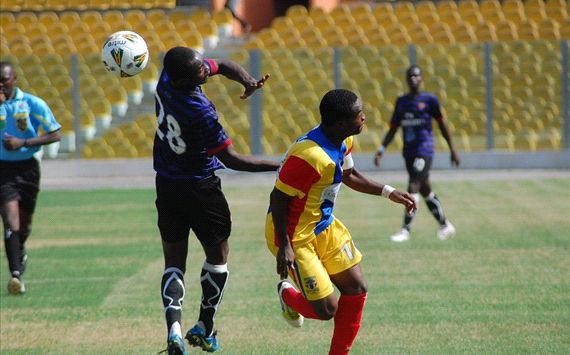 THE CEO |
The in-form Phobian striker has been the subject of discussion in the local media now
Otoo hopes to become an integral part of the national team, even though he could not come off the bench against Sudan. "I just need to keep up performing good for my club, and by God's grace, I'll have a lot of call-ups. I'm hoping to make use of the opportunities I get with the Black Stars, and again, by God's grace, I'll be able to get a couple of goals there as well."
One man who has been able to get goals for the Black Stars is current skipper Asamoah Gyan. Gyan had some advice for Otoo after he had scored in a friendly against Asokwa Deportivo before the Sudan game.
"Like Muntari, Asamoah was telling me he has seen me play for some time and he thinks I've got it so I should just keep working hard and that I'll make it. Albert Adomah too said same."
"Even though I have big dreams, I have to work hard," he says. "I can still do much better if I work very hard."
That sums up his whole attitude as a player. Hard work.
Otoo's future looks bright.