FEATURE
By Sammie Frimpong

They were the generation that made Ghanaians' wildest dreams come true, yet they are the very ones who have been charged with failing to reproduce the feats of Black Stars teams of yore.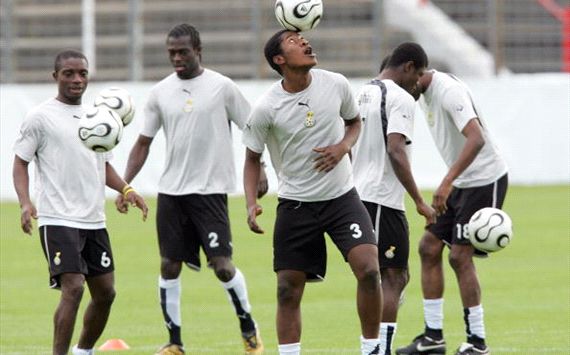 Consequently the pool of talent that had the likes of Stephen Appiah, John Mensah, Sulley Muntari, Michael Essien and Asamoah Gyan at the vanguard is set to go down in the annals of Ghanaian football for mixed reasons.
The bulk of that group was groomed in Ghana's youth teams that came through during the nineties and at the onset of the 21st century. The core, though, would be culled from the dazzling Black Satellites side that went all the way to the final of the 2001 World Youth Championships (now the U20 World Cup) in Argentina, where they were only outclassed by the Javier Saviola-inspired hosts. The regular starting lineup of that squad, put together by 'Coach-hene' Emmanuel Afranie, featured the young, determined faces of Essien, Mensah, Muntari, Emmanuel Addoquaye Pappoe, Razak Pimpong, John Paintsil, and Derek Boateng. In those lads, Ghana had found the nucleus of a side that would go on to thrill and establish the nation firmly on the global map in subsequent years.
With time the likes of Appiah, Sammy Adjei and Laryea Kingston - from a slightly earlier breed of Ghana youth internationals - would be merged, along with a certain Asamoah Gyan, then a fledgling 17-year-old forward. Before long, a 'dream team' had been built that flourished with some great mentoring and financial motivation never seen prior in the Stars' history.
And so it happened that five years after that achievement in Argentina, Ghana made an appearance at another mens' Fifa World Cup, this time at the only level that the country had failed to grace in its long and storied footballing past. Germany 2006, for many reasons, would remain a watershed for Ghana soccer. Qualification didn't come easy, though. With as many as four coaches overseeing the process and some tough group fixtures - including a crucial double-header against South Africa - dished onto the Stars' plate, Ghana's incredible success at the end of it all owed as much to the players' own will and ability as to anything else. At the tournament itself, they shone like the Stars they were. It was not as though they required that platform to find their feet in the game, however, for even back then a fair percentage was playing for some of Europe's brightest and best; Essien at Chelsea, Gyan and Muntari hired by Italy's Udinese, Mensah and Appiah turning out for Stade Rennes and Fenerbahce respectively etc.
Still, that run to the competition's first knockout round surely did much to increase their individual profiles, as well as boost their collective desire to savour that experience all over again. Thus the next time a World Cup ticket was up for grabs, they delivered. With a little help from another blessed batch of Ghana U20s - the one that won gold in Egypt in 2009 - the 'veterans' secured the nation a place at a second successive World Cup. From failing to appear at the Mundial in nearly half-a-century of trying, Ghana had pulled it off twice under a decade.
At that edition, held in South Africa, Ghana rode on the back of Gyan's goals - three of them in all - to the quarter-finals where Muntari scored a screamer to hand Milovan Rajevac's side a 1-0 lead against Uruguay. The South Americans struck back, however, through Diego Forlan, thus setting up a nervy finale. Of course those tense dying minutes would forever be remembered mainly for Luis Suarez's straying fist which punched clear a last-gasp goal-bound header from Dominic Adiyiah. Seconds before that incident, though - in an instant that got swallowed up amidst all the chaos that ensued but which was very clearly caught on tape, just in case you wish to relive it - Suarez's leg had prevented a kick by Appiah from crossing the line. Had that strike -or Gyan's resulting spotkick, for that matter - gone in, it would certainly have been recalled by posterity as the single most important contribution of that celebrated gang to the Ghanaian game. Alas, it was never to be.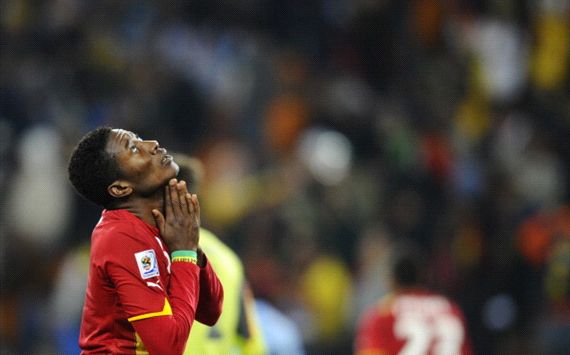 DEJECTED | Gyan's saddest day in his World Cup history
After that heartbreak, the old guard, by then composed mostly of players struggling for form and fitness, began to disintegrate. Appiah, for long its natural leader, never pulled on the Ghana shirt after the tournament's conclusion; Essien embarked on a lengthy sabbatical; while the two defensive Johns, Mensah and Paintsil, have been off the scene for some time now. Only Muntari and Gyan have featured frequently enough since (Derek Boateng has only been used sparingly) and contributed meaningfully to Ghana's latest successful World Cup qualification campaign.
The trio, along with the returning Essien, could reasonably expect to be included in current Ghana coach Kwesi Appiah's yet unannounced squad for Brazil come June, but even they would know that event could well be their last hurrah for the country.
The three consecutive World Cup appearances and the accompanying memories would definitely be the defining legacy of this glorious bunch, but just how lasting would it prove?
| | |
| --- | --- |
| | Before long, a 'dream team' had been built that flourished with some great mentoring and financial motivation never seen prior in the Stars' history |
For achieving what had once seemed improbable for the country's football, have they perhaps earned the right to be considered greater than their predecessors?
Not really.
For those Ghanaian soccer fans who have been around long enough to see the Black Stars' trophy-laden days and who are thus inclined to measure success in terms of silverware, that history-making lot, brilliant as they were, would never be considered among the truly illustrious ones.
To these, Essien and co. would always be only slightly more successful than the incredibly talented players who represented Ghana throughout the nineties and early noughties yet had nothing tangible to show for their service.
To these, Appiah the skipper would never quite be mentioned in the same breath as the Afcon-winning captains Aggrey Fynn, Charles Addo Odametey, Awuley Quaye, and Emmanuel Quarshie.
So, then, exactly how would Ghana's 'Golden Generation' be remembered when the last one among them bows out?
Well, the jury is still out and, for now, the verdict pends.


Goal Ghana has its own

and

account, so for all the latest news and features on Ghana football follow us by clicking on the above links