SPECIAL REPORT
By Ibrahim Kocyigit
In 2011, Unal Aysal became the new president of Galatasaray, whose debt then exceeded €240 million. The club were virtually broke. Less that two years later, though, they are soaring, and are currently ranked 30th in the Deloitte Football Money League.
World renowned stars such as Didier Drogba and Wesley Sneijder ply their trade at the Turk Telekom Arena alongside established names like Fernando Muslera, Emmanuel Eboue, Johan Elmander and Burak Yilmaz.
So how did everything change so rapidly?
The simple explanation would be that Aysal, the 45th richest man in Turkey, used his considerable wealth to solve their problems just as Roman Abramovich did at Chelsea. The way in which Galatararay were saved, though, was far riskier than that, and even more controversial.
The risky part was merely the investment. Aysal invested in new players upon his arrival. He may have sold Arda Turan to Atletico Madrid, but he brought in Muslera, Eboue, Elmander and Felipe Melo.
The gamble paid off. Galatasaray won the Super Lig title, worth €30m, and it led to another €27m in revenue from Champions League qualification. The opening of their new stadium, the 52,000-seater Turk Telekom Arena also earned them €30m from VIP lounges and season tickets.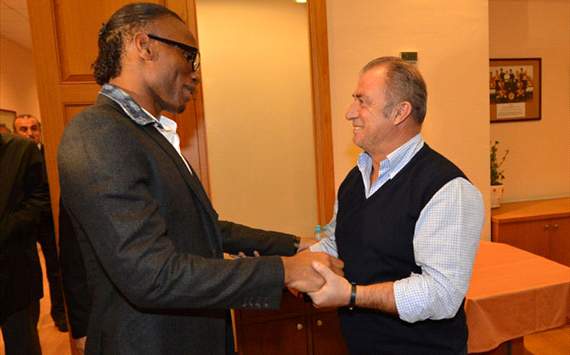 'Fatih' | Gala are hoping to conquer Europe with their 'saviour' Terim at the helm
The controversial part was their dealings in the stock market. Between August and December 2011, they sold 28.35 per cent of shares from Galatasaray AS, the holding company that manages all of their revenues and expenses, earning them €70m.
This was followed by the announcement that all gate receipts from the Turk Telekom Arena would go directly to the football branch of the organisation, as opposed to the parent company, to which all revenue for the period of 2014-30 would go for a one-off sum of €187m.
Then came a 400% increase in the company's share capital, devaluing each individual cut. Holders were made to pay €11 per share to subsidise the transaction, raising a total of €117m. Unlike the other shareholders, the club didn't pay its share which was €65m in cash, but wrote it off from the €187m which the company owed them for the sale of the future gate receipts.
A mere five months later, the company again applied for a 300% increase in share capital, only for Turkish equities watchdog Capital Market Board to deny the request. While it was technically legal, it was not deemed ethical.
"We are aiming to win the Turkish league and to be successful in Europe. We are taking steps to becoming a global team"





- Lutfi Aribogan

Balancing the books was all part of a big plan to establish themselves as a global force. Drogba (whose taxes will be paid by his employers) and Sneijder have not been signed only to win the Super Lig - they have their eye on the continent.
"We are aiming to win the Turkish league and to be successful in Europe," the CEO of the club's holding company, Lutfi Aribogan, said recently. "We are taking steps towards becoming a global team."
Aysal has spoken of the club needing "big players" to reach "big targets", but no-one, including coach Fatih Terim has mentioned any tangible goals.
"This is not about reliving the 00s," says
Daily Sabah's
journalist Bulent Timurlenk, who has worked for the club's official magazine. "Sneijder and Drogba were only opportunistic signings. Inter's desire to get rid of Sneijder's salary made him available for less than €8m, and Drogba was not being paid at Shanghai Shenhua."
When Galatasaray won the Uefa Cup in 2000, the salaries of Gheorghe Hagi, Gheorghe Popescu, Claudio Taffarel and others triggered a financial crisis in the years that followed, eventually forcing them to trim down the squad, and they are in danger of the same thing happening again.
"The way they deal with this coming crisis reflects Aysal's philosophy as a businessman," says Timurlenk. "He believes that the only way is to take risks and be aggressive. For him, cutting back doesn't keep the fans happy and sell season tickets."
And the fans are delighted. Aysal's claims that the club would become a global force were met with mockery by Fenerbahce and Besiktas fans. Nowadays, they have the star power in the Super Lig and are progressing well in Europe.
For Aysal's gamble to keep paying off, though, the success must continue both at home and abroad. Failure to recreate the glory days of Hagi, Popescu and Taffarel would lead to a sticky fate.