After a lengthy winter hiatus, the Bundesliga came back with a bang over the weekend. Schalke, Dortmund, Bayern Munich and Bayer Leverkusen all grabbed spectacular wins, while Augsburg's bid to escape relegation was boosted by three points against Fortuna Dusseldorf. And
Goal.com
is here to pick out the best talent on show.
In goal, we have
Oliver Baumann
, who made a string of crucial saves to help Freiburg to a 0-0 draw on a tricky trip to Mainz.
In front of him stands one of his team-mates,
Pavel Krmas
, who forms a back three along with
Sebastian Boenisch
, who got the ball rolling for Leverkusen against Frankfurt, and
Mats Hummels
, who put in another fine performance in BVB's rout at the Weserstadion.
All four of the midfielders were on target this weekend.
Lewis Holtby
signalled his ongoing commitment to Schalke with two assists and a goal,
Mario Gotze
added to
Marco Reus
' opener for Dortmund, and
Diego
's strike helped Wolfsburg to their second home win of the season.
Fortuna Dusseldorf may have lost to Augsburg, but
Stefan Reisinger
almost snatched a point single-handedly with two second-half goals,
Stefan Kiessling
solidified his case for a Germany call-up with another goal, and
Sascha Molders
helped Markus Weinzierl's side to three vital points.
BAUMANN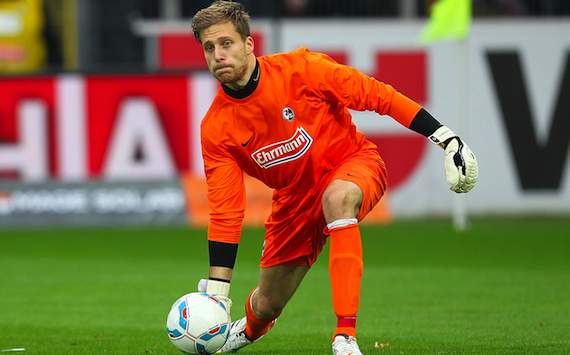 FREIBURG
vs Mainz (A)

Rating:




TOTW Apps: 1
BOENISCH

KRMAS

HUMMELS
LEVERKUSEN

FREIBURG
DORTMUND
vs Frankfurt (H)

vs Mainz (A)

vs Bremen (A)
Rating:
Rating:
Rating:

TOTW Apps

: 1

TOTW Apps

: 1

TOTW Apps

: 6
HOLTBY

GOTZE

DIEGO

REUS

SCHALKE

DORTMUND

WOLFSBURG

DORTMUND
vs Hannover (H)

vs Bremen (A)

vs Stuttgart (A)

vs Bremen (A)
Rating:
Rating:
Rating:
Rating:

TOTW Apps

: 5

TOTW Apps

: 8

TOTW Apps

: 5

TOTW Apps

: 9
REISINGER

KIESSLING

MOLDERS


DUSSELDORF



LEVERKUSEN

AUGSBURG


vs

Augsburg

(H)

vs Frankfurt (H)

vs Dusseldorf (A)

Rating:
Rating:
Rating:

TOTW Apps

: 1

TOTW Apps

: 6

TOTW Apps

: 1