Fiifi Anaman




FEATURE

|

Ghana




Follow on
"We have finally completed the full takeover of Kessben FC after several weeks of negotiations," Ghanaian construction magnate Moses Armah told the press in July 2010. "We have comprehensive plans of transforming the club into one of the giants of not only Ghana football but also African football."
"We will put in place world-class structures to make sure that the club starts on a good note to achieve the targets we will set for the club's future."
Armah had formed a club named Medeama SC two years before, and saw a business opportunity pop up when fellow business magnate Kwabena Kesse's popular Kumasi club Kessben FC became debt ridden due to over ambitious plans gone bad as well as extravagant signings.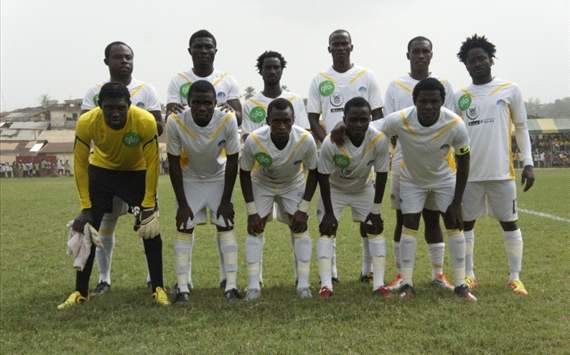 BROTHERS |
Medeama is an Nzema word meaning 'brothers' and their motto: Never give up
Medeama SC – the original one – had, in their opinion at least, been robbed of Premier League promotion in the 2009-10 season due to controversial refereeing. Missing out on a dream participation in Ghana's prestigious top flight just within two years of its founding was a hard blow to deal with, and Armah, affectionately known as 'Mospacka', knew it would be tiresome to do it all over again.
He therefore did not hesitate at all in merging his club with Kessben, as it presented a rare opportunity of participating in the Premier League. The take-over was worth $600,000, and Kessben owner Kwabena Kesse relinquished his entire 100% stake.
The biggest takeover
It was the biggest takeover in Ghana football history.
Armah had to wait six months before the name Kessben could be changed to that name so dear to his heart, "Medeamaa", which is an Nzema word meaning "My brother". The merger cum take over meant the new club was going to be made of Kessben's experienced players as well as Medeama's young talented lot. There was more good news; mining giants Goldfields Limited came on board as sponsors, due to the fact that the team was going to be based in the mining community of Tarkwa (where the original Medeama was formed). Goldfields felt Medeama's presence – they had plans to unearth 70% of the talents for their team from the Western Region – was going to prove strategic to the development of Tarkwa and the Western region as a whole.
The Mauves and Yellows, as they are affectionately known, temporarily adopted the Sekondi Essipong Stadium as their home grounds, until Goldfields assisted the Tarkwa Municipal Assembly to build a facility in Tarkwa for themselves and fellow local club Wassaman, who have since been relegated.
Coach Bashir Hayford, who managed the erstwhile Kessben, was appointed manager soon afterwards.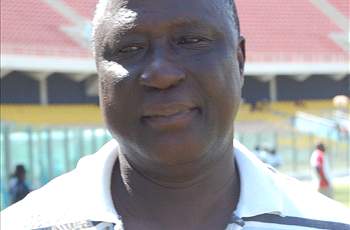 "Coach Hayford led the team to two consecutive 4th place finishes in his first two seasons in charge."
Hayford had won the league with giants Kumasi Asante Kotoko with a magnificent 70% record in 2008, finishing 16 points ahead of their closest competitors Hearts of Lions. He was immediately tasked with the objective of building a strong formidable team that would eventually rule Ghana football within the next few years.
Coach Hayford led the team to two consecutive 4th place finishes in his first two seasons in charge. In their first season, they chalked 46 points from a possible 90, winning 12 games, drawing 10 and losing eight, with 35 goals scored and 31 conceded.
The second season saw them playing 30 games, of which they won 14, drew four and lost 12, with 42 goals scored and 34 conceded. They had increased their number of wins by two and reduced their number of draws by an impressive six games, but they lost four more games compared to the previous season, which meant even though they had made significant improvement, they still finished fourth, with the same points tally (46) from the previous season.
But before this season began, they lost three of their best players last season during the transfer window. Talented winger Richard Mpong and versatile center-back Kwabena Adusei Azaaro left for giants Kotoko, with veteran goal poacher Louis Agyemang (who scored 11 of their 42 goals last season) pitching camp with Ashgold.
Wrong to write them off
Based on this, pundits were quick to write them off. Their improvement trajectory, they argued, was going to be disrupted by their inability to hold on to their star players. It looked very unlikely that they were going to have the quality sufficient enough to close the 17 point gulf between themselves and the league title. Instead of equipping themselves to challenge for the title, they were rather equipping their rivals to do so.
That nonetheless, assistant coach Yusif Abubakar, who has since replaced Han van Der Pluijm as Berekum Chelsea coach, saw something different. "We are preparing slowly and believe me people will be surprised to see the new look Medeama side."
"I remember All Stars beat us at home on the opening day last season and that really affected team confidence, but we are putting our house in order and with God on our side, I believe we can win the League," he opined before the season began.
Three months later, and with only one game to end first round, Medeama are on top of the Premier League with 27 points, eight wins, three draws and three losses, as well as the highest goal difference (eight), having scored 17 goals and conceded only nine (the second lowest, after defence specialists Aduana Stars).
With league wins by Aduana Stars (2010) and Berekum Chelsea (2011) breathing life into the title aspirations of relatively newer clubs, Medeama are daring to dream, and against the odds.



"Medeama, who beat Hearts of Oak 3-1 with 10 men in Accra last Sunday, go into 2013 as Ghana's best team,"






- Fiifi Anaman

"We have an experienced coach who had won the league before and knows what it takes to win the league," Vice President Albert Commey said. "We know people doubt our ability to win the league but we remain focused on what we are doing to achieve our ultimate goal."
But 'Bash' (as Coach Hayford is sometimes called) remains cautiously optimistic. "I am only interested in seeing the team grow game by game."
Medeama, who beat Hearts of Oak 3-1 with 10 men in Accra last Sunday, go into 2013 as Ghana's best team.
Who knows, they might still be when the league ends in five months time, provided they put into practice the words from their motto – Never give up – and also remain united as 'Brothers'.
That'd be a fairytale.