TACTICAL ANALYSIS
By Kris Voakes | Italian Football Writer
There is needing a point, and there is needing "only" a point. Those are two very different scenarios, and it is the former which faces Juventus as they make the trip to play Shakhtar Donetsk on Wednesday night knowing a draw from their final Champions League Group E fixture will send them into the last 16.
Their slow start to the European campaign - particularly the costly 1-1 draw with Nordsjaelland in Copenhagen - has come back to bite them as they fly to Ukraine with their future in the competition still on the line. And while they come up against a side already assured of a place in the knockout phase, they cannot take it for granted that their hosts will be happy to take a share of the spoils. If anything, they will want to maintain the excellent form they have shown to this point, which was rarely more in evidence than when they picked the Bianconeri apart in their 1-1 draw in Turin in October.
JUVENTUS V SHAKHTAR: 02/10/12

MULTI-FACETED: But Vidal's ability to sweep & Marchisio's attacking threat from the left failed in Turin

That night, Juve were expected by many to turn in another convincing performance after outplaying Chelsea in their opening fixture, but instead they were subjected to the most thorough examination of their tactical structure since Antonio Conte arrived at the club in the summer of 2011. They managed to get out of the game intact thanks to Leonardo Bonucci's driven effort from a right-wing corner three minutes after going behind, but few Juventini left Juventus Stadium feeling better about their side's hopes than they had before kick-off.
At Stamford Bridge, we had seen signs of Juve in their pomp. Arturo Vidal had been his domineering best in the right channel, covering space behind Stephan Lichtsteiner and Andrea Pirlo well in order to give extra protection to Leonardo Bonucci and Andrea Barzagli, while to the left of Pirlo, Claudio Marchisio was given the freedom to regularly make a nuisance of himself in and around the final third. It has been the classical Juve midfield set-up since Conte put the three centre-midfielders together: Vidal working, Pirlo creating and Marchisio exploiting.
But in the 90 minutes that followed, Mircea Lucescu's side asked so many more questions of the Old Lady than Chelsea would eventually manage over 180. The wily Romanian was insistent that his team would get the best out of their ability by playing to their strengths, and to a large extent that also coincided with Juventus' lesser-spotted weaknesses.
With Willian asked to spend much of his time loitering in the space between Juve's lines of defence and midfield, the Miners were able to find cheap possession in advanced territory. Tomas Hubschman was asked to slide across and fill in for Razvan Rat as the left-back made regular forays down the flank, thereby tying up Stephan Lichtsteiner and forcing Barzagli to step up and mark Willian whenever Vidal was caught in an advanced position after one of his regular raids into the Shakhtar half.
While Barzagli has been very consistent in his strength and aerial ability since arriving from Wolfsburg in January 2011, the 37-cap World Cup winner has sometimes had a tendency to struggle with more technically gifted adversaries. Willian made the most of the Italy international's fragility, regularly cutting inside Barzagli to send testing balls through for Luiz Adriano (suspended on Wednesday night) and the supporting Henrik Mkhitaryan and Alex Teixeira, all of whom were able to find space on the right up against Giorgio Chiellini due to the attacking nature of Kwadwo Asamoah and Marchisio's roles.
SHAKHTAR'S ANSWER IN TURIN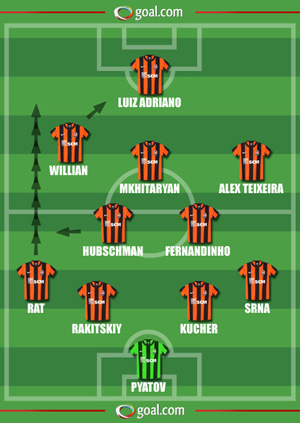 PRINCE WILLIAN: The Brazilian played in the space between the lines, exploiting Juve's right

As Shakhtar forced them back, Juventus were made to start attacks from a less comfortable deeper platform, with the back three chased down regularly and pressed into losing possession cheaply. To add to that, players like Marchisio, Pirlo and Asamoah, who are infinitely more comfortable with the ball than without it, were stripped of their more adventurous nature. This was not the Bianconeri we had become used to in Serie A for the previous 12 months.
Shakhtar's goal emanated from just such a situation. Mirko Vucinic lost the ball in midfield after dropping in to help develop an attack, and as soon as Fernandinho burst into the Juve half, Willian was in support with Vidal still back-tracking. With the Ukrainians then sending the ball between several pairs of feet, Marchisio was too easily attracted to the man in possession and with each pass he increasingly lost sight of Alex Teixeira's run into the right channel. When Willian's original shot was blocked, he then found his countryman in acres of space with Marchisio nowhere to be seen.
Of course, this time around Marchisio is suspended, but the plan would need to be the same whether he was available or not. Greater care must be given to filling the gaps in Shakhtar's outside left and outside right positions, where Willian and Alex Teixeira got too much freedom last time around. If anything, Paul Pogba may well be better placed to carry out the role than Marchisio, given that he spent much of his youth career at the heart of midfield with a fair degree of defensive responsibility.
Still, the naturally attacking wide men - Lichtsteiner and Asamoah - must not be afraid to attack, even if they must be wary of the dangers they are leaving behind.
Conte's message must be simple as he waves his players off ahead of one final stint in the stands before his ban ends. Juventus must play to their own strengths, but need to be more switched on in terms of the midfield five's defensive responsibilities. Failure to do so could see the Old Lady sent to the Europa League after Christmas.
Their biggest 90 minutes of the season lie ahead. "Only" a point? Hardly!
Follow Kris Voakes on