SPECIAL REPORT
By Ben Hayward | Spanish Football Writer
Optimism was at a premium in Spain on Thursday following a day of strikes and protests against austerity. Amid constant cuts, low wages, unemployment and scarce signs of hope - doom and gloom prevailed. But on the same day, the darkest of clouds finally lifted at Real Oviedo after more than a decade in the doldrums.
Spain's story remains an uncertain one but, thanks to an incredible initiative, hard work, human effort and the power of social media, that of Oviedo looks set to enjoy a happy ending.
Two weeks ago, the Asturian club - now in Spain's Segunda B - were faced with the seemingly improbable task of raising close to €2 million to pay off debts and avoid going under by November 17.
HOW YOU CAN HELP OVIEDO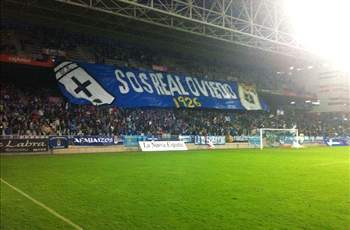 Help safeguard the future of Real Oviedo by buying shares here. A single share will cost €10.75 and you will automatically become a joint owner of the Asturian outfit, along with thousands of other fans across the globe.

If you live outside Spain, your share purchase will entitle you to free entry to an Oviedo game if you happen to be in the city for a visit in future.

More importantly, you will have done your bit to preserve the status of an historic institution which gave us Santi Cazorla, Juan Mata, Michu and Atletico Madrid's Adrian Lopez.

Shares are on sale until Saturday.
Shares of the club went on sale on November 3 and, thanks to support from
Guardian
journalist Sid Lowe, who became an Oviedo fan while studying in the city between 1996 and 1997, a PayPal account was quickly set up to allow fans to buy online. In total, around €1.2m has been raised, and that, along with funds found from the sales of Santi Cazorla and Juan Mata as teenagers, has seen the club meet the first of three short-term targets.
The second is to reach a total of €2.5m by the end of the season to ensure the club can continue to exist before the summer, while the short-term debt amounting to €4m must be cleared in the coming months, too.
Since suffering relegation from La Liga in 2001, Oviedo have endured a torrid time. The Asturians were sucked into a battle against the drop right at the end of that season (having not been in the bottom three all campaign - their 13th straight outing in the top flight) and were unfortunate to face Barcelona, Real Madrid and Mallorca in their last three fixtures.
Victory at Camp Nou kept the dream of survival alive and a draw at home to champions Madrid meant a result at Mallorca might be enough. But the islanders were chasing second place and claimed a 4-2 victory, with the last goal coming in added time as Oviedo sought survival through a late leveller which never arrived. Luis Aragones, then Mallorca boss, consoled the visiting players on the pitch after the match.
Stan Collymore was not among them. The former Liverpool, Aston Villa and Nottingham Forest forward's ill-fated spell in Spain had ended after just three games (71 minutes in total) and he subsequently retired, despite having signed a four-year contract. He lost a court case years later and was ordered to pay back €300,000 to the Spanish side. It is unclear whether all of that has been returned and the club's current board revealed on Thursday that they have been in contact with his lawyers.
Following relegation, Oviedo had hoped to bounce back straight away, but years of mismanagement on and off the pitch have seen the club stuck down in the lower leagues, spending four seasons in Tercera and six more - including the current campaign - in Spain's Segunda B.
Questionable decisions have been made along the way by some unsavoury characters, including majority shareholder Alberto Gonzalez, who is on the run from Interpol for two counts of fiscal fraud. He famously spent €200,000 of club funds on a brand new bus, which couldn't even be parked at many grounds in the lower divisions, and has recently been used to help attract
socios
in other parts of Asturias.
But throughout those turbulent times behind the scenes, Oviedo's
cantera
continued to thrive on minimal resources and has produced four of the country's brightest talents: Cazorla, Mata, Michu and Adrian Lopez of Atletico Madrid.
Adrian is said to have bought shares to the tune of €25,000 to help save the club, while Cazorla, Mata and Michu have all dug deep into their pockets to aid the side which saw them take their first steps in professional football. "It's my local club, a club I love," the Swansea midfielder revealed recently.
While Mata and Cazorla left before graduating to Oviedo's first team, Michu's case is different: the 26-year-old spent four successful seasons at his hometown club and helped the side to promotion to Segunda B. He also did his cult status no harm at all by turning down a move to the club's fierce rivals Sporting Gijon, then in the top-flight.
Now at Swansea after stints at Celta Vigo and Rayo Vallecano, Michu believes Oviedo's story has captured the imagination of Swans fans.
"Swansea followers should know how much it means to me and Oviedo supporters. I remember reading up on the history of Swansea when I first arrived here; I remember reading how the Swansea supporters bought shares in this club when it was in trouble 10 years ago - and again many years before that.
"And look at the club now; in the Premier League and winning at places like Anfield. Hopefully this SOS can have a similar reaction."
Myself, Mata and Cazorla have all bought shares. We just wanted to try and help the club we all played for. Hopefully it will be enough





- Former Oviedo favourite Michu

A return to Primera is the long-term objective, of course, but baby steps are necessary at the moment.
"We are not there yet," Sid Lowe told
Goal.com
. "The response has been astonishing and we have overcome the first obstacle, but there is still a long way to go."
Lowe's tweets have drummed up considerable support in the shape of share purchases, particularly among fans of Arsenal and Chelsea (in support of Cazorla and Mata respectively), and he believes the club are now in a position to attract a serious investor, with Granada president Enrique Pena strongly linked.
"The board have been fantastic and have worked incredibly hard. Now, an investor could come in over the next few days. It has to be someone with the best interests of the club at heart, but [with their new-found fan base] the potential is there for Oviedo to be back in Primera one day."
And that really would be a great story.
Follow Ben Hayward on