TRIBUTE
By Sammie Frimpong

This weekend, all 16 clubs involved in Ghana's current Premier League season would observe a minute's silence and make their players don black armbands in memory of a fallen national hero albeit one who, in his final years alive, remained all but a footnote in the annals of this country's football history: Emmanuel Quarshie.
Quarshie is/was of more significance to Ghana's football heritage than his low profile suggested. When the Black Stars lifted the last of its four Nations Cup trophies - some 31 years ago in Libya - Quarshie was the proud skipper.
That year, 1982, would prove something of an annus mirabilis for Quarshie, as he also inspired his hometown club Sekondi Hasaacas to the West African Football Union (WAFU) Cup, backing that with a runners-up place in the next edition of that competition. [Lest I forget: in his very first year (1977) with Hasmal, Quarshie helped the side to its first and only league championship crown.]
By 1983, Quarshie was ready to leave the shores of his homeland, trekking to Egypt to join giants Zamalek who, at the time, were enduring a prolonged league title drought that had lasted for all of six years. Quarshie's arrival marked a return to significant successes for the White Knights, culminating in an end to their barren spell and a Champions League triumph in 1984.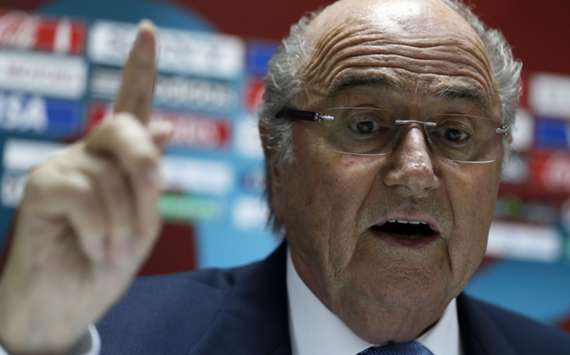 Blatter: "An inspiration to [Ghana's] current exciting crop of players."

Perhaps Quarshie's most notable contribution to that maiden continental conquest was a fine pair of goals notched in a 5-1 rout of Zambia's Nkana Red Devils in the quarter-finals, the more memorable of which was a stunning 35-yard piledriver that had Zamalek fans feting Quarshie for the remainder of his stay at the club. So brilliant was the finish that Ahmed Effat, commentator on the day, could only yelp in sheer ecstasy.
"GOAAALLL!," Effat boomed. "A bomb from Quasrhie (2x)…a rocket!"
"A rocket" indeed it was, for that strike would remain one of Zamalek's finest in continental club competition. Quarshie would go on to enjoy cult status in Cairo's Zamalek-loyal suburbs till 1986 when he sought adventures in Gulf territory.
Quarshie would later return to Ghana to take up coaching jobs with local sides, among whom include Wa All Stars, B.A United, Bofoakwa, Ebusua Dwarfs (who he famously guided to promotion to the Premier League) and Berekum Arsenals. Before long, however, tragedy struck that would take Quarshie's career -and his life- irreversibly downhill. Diagnosed with throat cancer and, like most former national stars afflicted with such predicaments, Quarshie had to deal with the emotional and financial brunt of his life-threatening affliction all by himself without as much as a whiff of concern from the powers-that-be. His wife, who became the ailing man's public face in his latter years, revealed in detail the exact extent of neglect on various platforms and called on sympathizers for much-needed aid. That SOS alert was heeded eventually, but by a most unlikely source.


| | |
| --- | --- |
| He [Quarshie] served the game with great distinction and success, both as player and coach, captained Ghana to their fourth Africa Cup of Nations victory in 1982 | |
Zamalek were in Ghana to honour a Caf Champions League group game against Berekum Chelsea in July 2012 and the club's visiting officials discovered the sorry plight of the man who had been at the core of their successes so many years before. The club was touched, as much by nostalgia as by the sheer sadness of the situation. In a move that would put even the biblical Good Samaritan to shame, Zamalek would extend a firm helping hand, inviting Quarshie over to Egypt to have the necessary treatment done, with all expenses covered.
Quarshie did go, and while the details of his mission there isn't privy to the public, the trip apparently didn't help much for, a little over a year later -on September 16, 2013- Quarshie died, aged 59.
He'd lost a battle against an enemy even his imposing frame couldn't contend with, and would be buried this weekend.

In the aftermath of his death, the tributes have come in thick and fast, not least from Fifa President Sepp Blatter himself who mentions him thus in a letter to Ghana FA boss Kwesi Nyantakyi earlier this year: "He [Quarshie] served the game with great distinction and success, both as player and coach, captained Ghana to their fourth Africa Cup of Nations victory in 1982."
Blatter goes even further to describe Quarshie as "an inspiration to [Ghana's] current exciting crop of players."
Yet even that might pass as an understatement.
For those who really knew him, Quarshie was many things rolled into one.
A national hero.
A man who, for his impressive physique, was nicknamed 'Abega', after the great Cameroonian Theophile Abega, himself recently deceased.
A man who defied the generally held perception that Ghanaian players couldn't succeed in the generally hostile playing environs of north Africa and...
Above all, a man who, perhaps more than most, embodied the fate of selfless ex-Ghanaian sportsmen left to 'rot' by an ungrateful nation.

Adieu, 'Abega'.


Goal Ghana has its own

and

account, so for all the latest news and features on Ghana football follow us by clicking on the above links