The line that distinguishes Kumasi Asante Kotoko and Accra Hearts of Oak is rather fine and steep, one that has been straddled and occasionally crossed by a courageous few.
Ahead of the derby fixture the two sides are scheduled to contest this Sunday,
Goal Ghana
's Nana Frimpong profiles five of the bigger names who have featured for both Ghanaian giants in times past and present.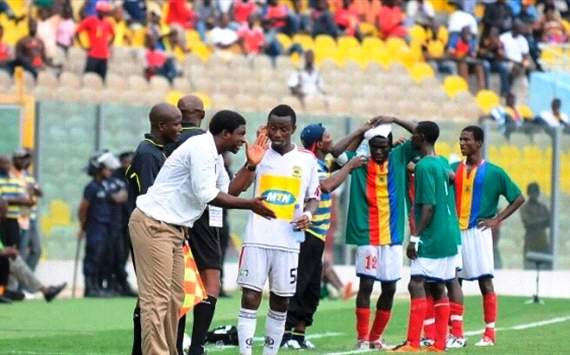 The diminutive ex-footballer-turned-cleric is better known for his exploits with the Black Stars in decades past that saw him reach consecutive Nations Cup finals with Ghana in 1965 and 1968, winning the first and being crowned joint top-scorer at that tournament. One other significant highlight in Kofi's fine career occurred when he switched allegiance from Hearts of Oak to their rivals Asante Kotoko and his time with the latter yielded, among other successes, three Ghana league titles. Kofi's incredible eye for goal and remarkable dribbling ability makes him one of the brightest talents to emerge out of Ghana over the years. Now 70, he remains one of the Ghanaian game's respected statesmen.
Charles Taylor's move from Hearts to Kotoko was perhaps more spectacular than any that preceded or would ever succeed it. Taylor, circa 2004, was perhaps the finest footballer on the domestic scene, and undeniably boasted the most natural talent that had been witnessed in a Ghanaian footballer in generations. Taylor had glittered with Hearts, playing a huge part in a successful streak enjoyed by the 2000 Caf Champions League winners, even single-handedly hurting Kotoko on a number of occasions. In sum, Taylor was prized like no other, thus for him to sign for the Porcupine Warriors under circumstances Hearts and its fans found both shocking and disheartening posed a serious issue. Kotoko, of course, did gloat over their successful coup yet at great financial expense and amidst much controversy. He failed to shine as much as he did for Hearts in the time he spent in Kotoko's colours and has indeed never been the same player since, not even during a short-lived return to the Phobian fold a few years later.
That a man who qualifies as Kotoko's finest captain in recent times started out as a Hearts of Oak player seems hardly comprehensible, yet 'Champion' Godwin Ablordey did indeed earn his wings at Hearts, only that he achieved far less renown in his brief spell there. Ablordey soon moved camps and steadily rose to become, not only a sine qua non in the Kotoko squads of that era, but also an inspirational skipper who led a very talented group of players through some memorable times. In fact, so successful was he at Kotoko that his prior experience with Hearts has largely been relegated to a mere footnote since. Perhaps the most significant part of Ablordey's game for which he still is remembered among Kotoko faithful was his unerring accuracy from the penalty spot, boasting a record of reliability from12 yards even the sharp-shooting Mario Balotelli would be proud of. Ablordey presently serves as team manager of Kotoko.
For the best part of a decade, Emmanuel Osei Kuffour featured as a key component of Hearts' fabled '64 Battalion', a unit which inspired fear in domestic and continental opponents alike and which was responsible for condemning Kotoko to a number of defeats, including one marked by a 4-0 scoreline, arguably the worst suffered by the Reds in recent years. Still, 'The General' found it in him to join Kotoko at some point in his career after he called an end to an accomplished period of service with Hearts albeit via a number of transit stops. And while his defection wasn't exactly Luis Figo-esque in nature and passed with little drama, it still got more than a few Hearts loyalists wincing, quite inevitably. After two seasons in Kumasi, Kuffour, now an established journeyman, was on the move again..
An excellent stint with Tema-based Power FC earned a young Douglas Nkrumah a move to Kotoko in season 2004-05 that saw the winger initially impress yet eventually fall down the pecking order, culminating in a move out of Kotoko's doors and into Hearts' in 2007. At Hearts, the Kotoko reject blossomed, even registering strikes against his former club in a few derbies, including one that sunk Kotoko to a 1-0 loss at the Baba Yara Stadium in October 2010 and catalyzed the departure of then Kotoko coach Ebo Mends.