---

By Mark Halsey of You Are The Ref.com
---
Jose Mourinho should appeal the red card given to Thibaut Courtois for bringing down Bafetimbi Gomis during Chelsea's opening-day draw with Swansea City - he has nothing to lose.
The penalty was clear but whether or not to issue a red card was a very difficult decision for Michael Oliver, who is a talented young referee. He has to judge whether an obvious goalscoring opportunity has been denied, so when the incident occurs he's got to consider a number of factors in a matter of seconds: the distance to the goal, the likelihood of Gomis keeping control of the ball, the direction of play and the location and number of defenders in close proximity.
When you think of the incident in terms of those criteria, is there doubt? I have to say yes. Gomis has touched the ball away from goal and taken himself wide, and Gary Cahill is potentially in a position to cover.
Oliver clearly concluded an obvious goalscoring opportunity had been denied and I'm not criticising his judgement, but with Courtois set to miss next weekend's trip to Manchester City it makes perfect sense for Chelsea to appeal.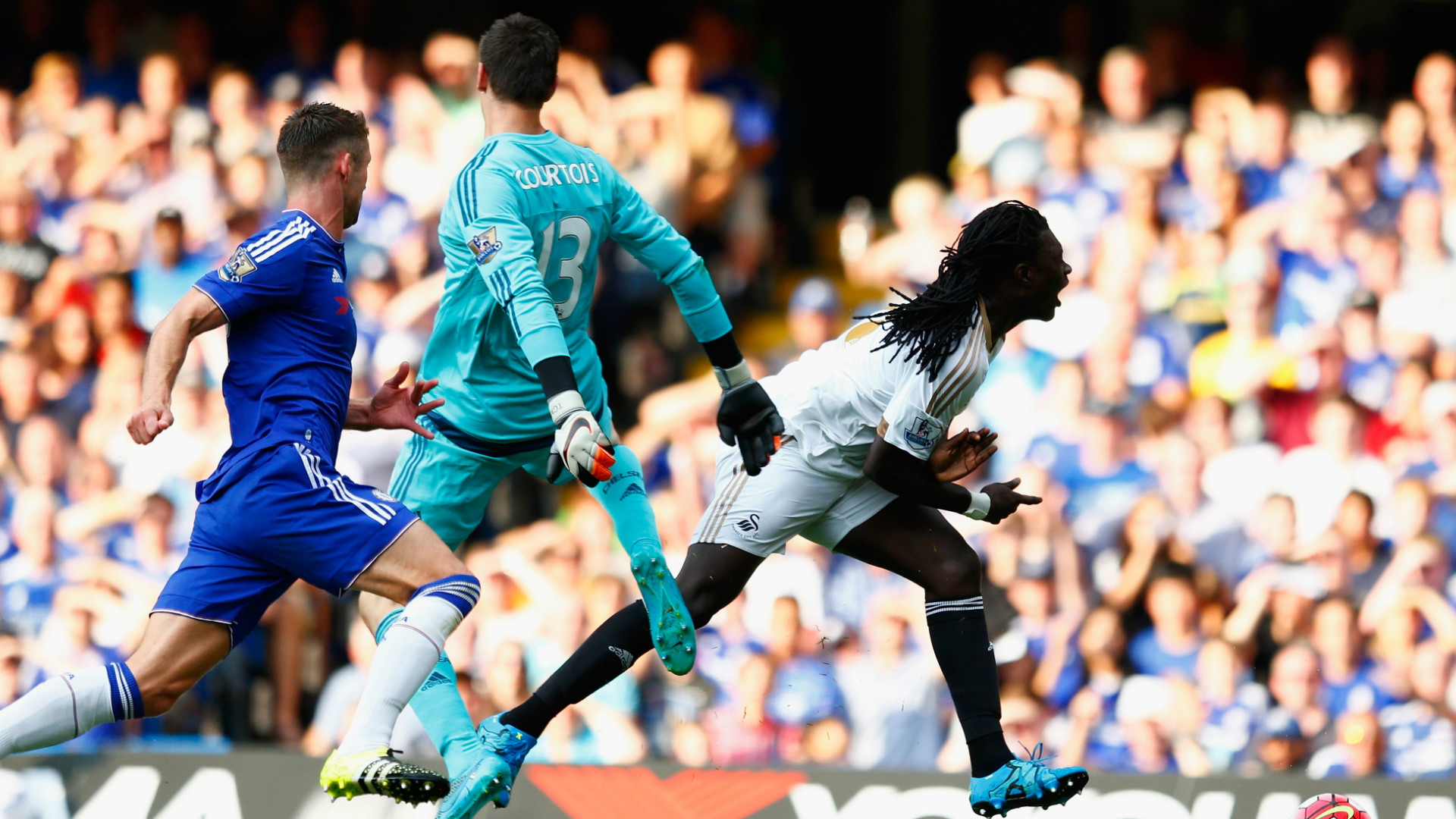 DON'T BLAME ATKINSON FOR ARSENAL CONCUSSION DRAMA
It has been suggested that Arsenal and West Ham failed to follow Premier League concussion rules in the wake of Olivier Giroud's nasty clash of heads with James Tomkins, but referee Martin Atkinson's handling of the situation was first class.
Whenever head injuries arise it is the referee's job to stop play immediately and allow club medical staff to enter the field of play as quickly as possible. Atkinson did just that.
It isn't a referee's job to ensure that medical protocol is adhered to. If club doctors identify a possible concussion and fail to submit their player to further examination in the tunnel or deviate from protocol in any other way, that is an issue for the Premier League and the club involved. In any case, Arsenal have since clarified that Giroud was never unconscious.
Overall, Atkinson did well. It wasn't a particularly difficult game to officiate but he got his key decisions right; that accuracy gets the respect of the players on both teams and makes a referee's job easier.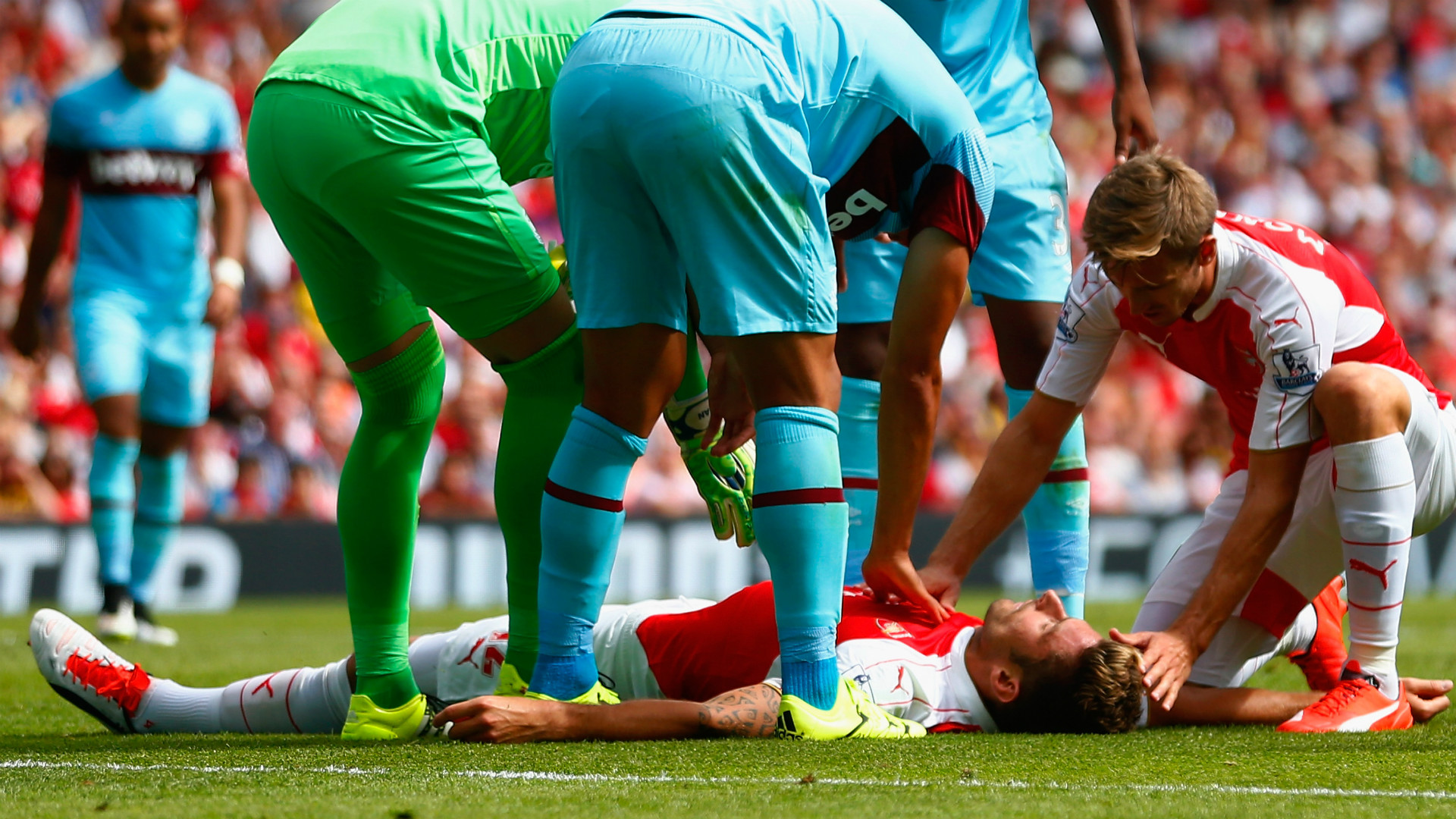 A QUESTION OF INTENT AT THE BRITANNIA
To my mind there were two big refereeing calls in Liverpool's victory over Stoke City on Sunday and Anthony Taylor judged them both spot on.
The first was Ibrahim Afellay's high foot in the opening minutes that caught Nathaniel Clyne in the chest. Some might argue that the challenge merited a red card regardless of how early it occurred in the match.
But Taylor correctly concluded there was no violent intent in Afellay's actions and, to his credit, the Dutchman was immediately apologetic for what had happened. Both players were going for the ball and the yellow card issued for a reckless challenge was the right outcome.
The second came shortly after half-time when Dejan Lovren caught Mame Biram Diouf with an elbow during a tussle to bring down a high ball. Again, Taylor had to decide whether what he had just seen was violent or reckless.
Lovren had clearly led with his elbow but in the absence of any obvious sign that he wanted to hurt Diouf, the referee was justified in concluding that a booking was punishment enough.
HOOPER OUT OF HIS DEPTH AT NORWICH
I wrote on Saturday that
Norwich City - Crystal Palace would be a trial of fire for Simon Hooper
, a Football League official taking the first Premier League match of his career. His performance proved he is nowhere near ready.
The three key decisions of the game were all judged incorrectly. In the first few minutes he failed to stamp his authority by punishing Glenn Murray for a rash challenge on Graham Dorrans, and later he failed to award a nailed on penalty when Connor Wickham pushed over Sebastian Bassong.
Worst of all, he disallowed a perfectly good goal from Cameron Jerome for a high foot, despite the fact that a similar strike by Graziano Pelle against QPR last year was ranked among the goals of the season.
I don't blame Hooper at all; I feel sorry for him. He is not part of the Select Group of referees and the PGMOL declined to promote him last season, instead choosing Graham Scott. Most referees also serve once or twice as fourth officials before being handed ultimate responsibility over a Premier League match.
If the PGMOL management wanted to try Hooper out, why did they not do it towards the end of last season, or in a few weeks when he would have a run of Championship games under his belt?
Instead they plunged him into the Premier League frying pan cold while more experienced operators like Andre Marriner twice served as a fourth official this weekend and Kevin Friend refereed in the Football League.
It was the wrong moment to expose Hooper to the pressures of Premier League refereeing and I hope someone puts an arm around him when they go through his performance.
Former Premier League referee Mark Halsey was speaking to Liam Twomey on behalf of You Are The Ref. For detailed referee analysis from the experts visit www.you-are-the-ref.com