UEFA Champions League
Lionel Messi: 2018-19 UEFA Champions League Squad of the Season - Forwards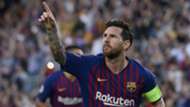 FC Barcelona ace Lionel Messi was once again at his best in the UEFA Champions League season 2018-19. 
Having recorded a norm of at least six goals in the Champions League for the last 12 consecutive seasons, the 32-year-old won the season's Golden Boot by scoring 12 goals in 2018-19 including a hat-trick and made 3 assists.
Messi has scored 110 Champions League goals and is second only to his nemesis and all-time top scorer Cristiano Ronaldo (126). He scored a brace in the first leg win (3-0) over Liverpool in the semi-finals before the Blaugrana were knocked out of the tournament after they conceded four in the return leg at Anfield.
Starting with an unstoppable free-kick in the 4-0 win over PSV, he completed his hat-trick in Barcelona's first group game. In matchday two, Messi scored two more in the 4-2 rout of Tottenham. Against PSV again, he was on the scoresheet.
A perfectly executed panenka initiated the 5-1 beating handed out to Lyon in the second leg of the Round of 16 at Camp Nou. He also scored a brace against Manchester United at home which left De Gea red faced after the match. 
Even though he didn't get his hands on the title, there is no reason to leave Messi out of the 2018-19 UEFA Champions League Squad of the Season.