live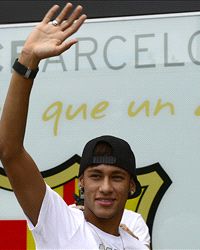 Real time, real news: Goal.com LIVE! brings you the action as it happens.
339216
2013-06-03 17:29:31
Neymar's first press conference as a Barcelona player is scheduled to get under way in approximately three minutes' time. However, while we wait, here are some fun facts (more to follow later) about the Brazilian that you might not have come across before ...

- Neymar recently made a guest appearance in Globo TV's new soap opera, Amor a Vida

- Neymar endorses a total of 11 brands (I hasten to add that this is at the latest count of my Goal Brasil colleague Matheus Harb!)
339212
2013-06-03 17:25:50
No surprise, of course, that Neymar mentioned Messi in his first appearance at Camp Nou. The Brazilian had already stated that the prospect of lining up alongside the Argentine gives him
"butterflies in his stomach"
. I think it's a feeling shared by all football fans.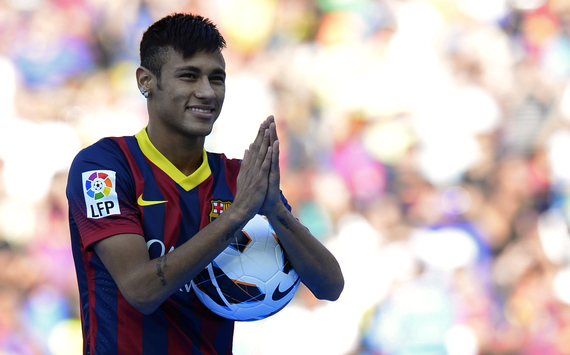 339209
2013-06-03 17:21:17
Of course, while it always seemed inevitable that Neymar would end up at Camp Nou, Real Madrid did their utmost to land the forward, first trying to sign him when he was just 14. More recently, Marcelo and Kaka made several attempts to persuade their compatriot to join them at the Santiago Bernabeu.
However, as Rupert Fryer explains in this
fine piece on Neymar's departure
, Chelsea were also desperate to sign the striker.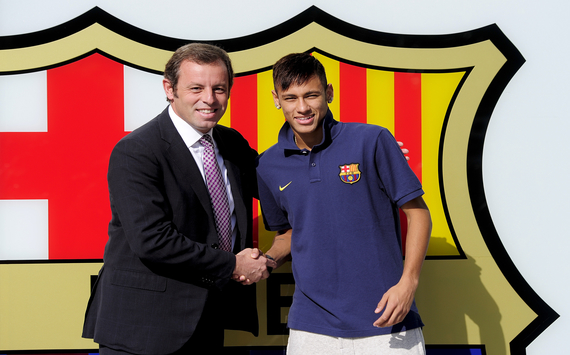 339207
2013-06-03 17:14:57
Of course, Neymar has long seemed destined to join the
Blaugrana
. However, most pundits felt that the deal would not go through until next year. So why now? Ben Hayward explains all
HERE
.
339204
2013-06-03 17:03:15
Right, after being given a rapturous welcome by the Blaugrana faithful, Neymar is now set to field questions from the journalists present (all 122 of them!). It gets under way at the 1899 audatorium at 19:30 CET and we'll bring you the best quotes here.
339201
2013-06-03 16:56:24
I think that no matter where your loyalities lie, it's impossible not to be more than a little excited by the prospect of Neymar and Messi playing alongside one another in the same attack.
Actually, just on that, what do you make of Neymar, Real Madrid fans? Are you disappointed that
los Blancos
failed to land the forward, given president
Florentino Perez offered double what Barca were offering
? Or were you worried about having another Robinho on your hands? Please do get in touch via
Twitter
; would love to hear your thoughts.
I think the thoughts of Barca fans are perfectly illustrated by this banner below: "Hey, Florentino, in Madrid there is no beach and no Neymar".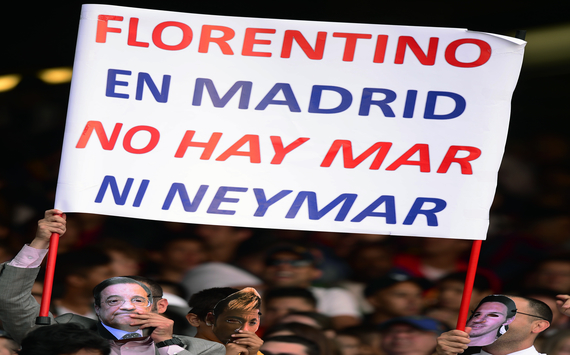 339198
2013-06-03 16:53:49
Fair to say that Camp Nou has already taken Neymar to their hearts, with the Brazilian having addressed them in Catalan. Pilar Suarez has more:
"Neymar came out onto the pitch and the fans went crazy, singing his name. Everyone was singing, 'Neymar! Neymar! Neymar!'"
I'd wager that that simplistic chant will become quite popular at Camp Nou in the coming years.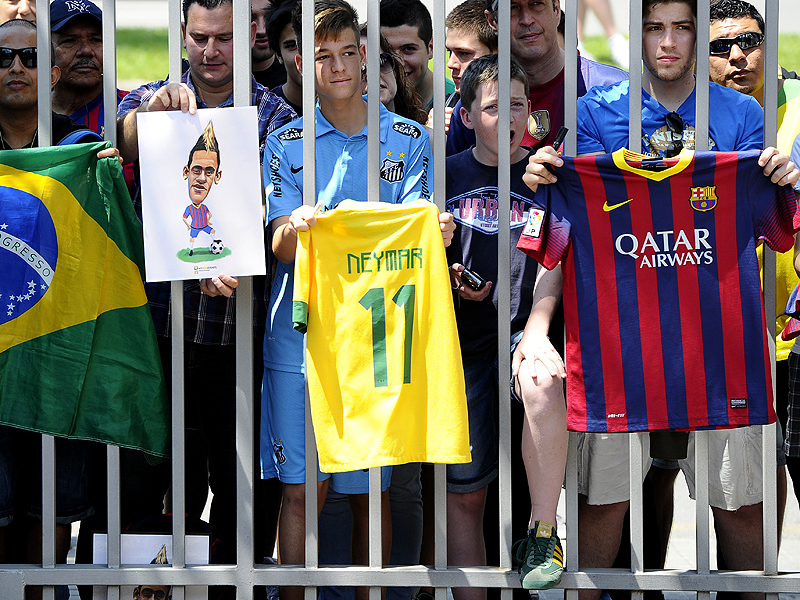 339180
2013-06-03 16:46:37
Neymar continues: "I want to help Barcelona and Lionel Messi continue to be the best in the world for many more years to come."

What a nice touch that is - one of the best of his fledging career - and that crowd-pleasing comment draws a huge roar from Camp Nou.

"I'm very happy," he concludes. "It's so emotional. It's very exciting to be a Barcelona player. It's a dream come true. Thank you very much."
339169
2013-06-03 16:42:12
After a delay that only heightened the sense of anticipation among the 60,000 fans in attendance, Neymar strolls out onto the pitch at Camp Nou as the club's anthem bellows out around the ground.
The Brazilian then shows off his impressive ball skills, as is customary at these events before addressing the crowd in his best Catalan:
"Good evening, Neymar, I'm very happy to be a Barcelona player."
339152
2013-06-03 16:34:04
339150
2013-06-03 16:31:37
OFFICIAL:
Barcelona have signed Brazilian superstar Neymar - and here he is with his new employers after putting pen to paper on a five-year contract.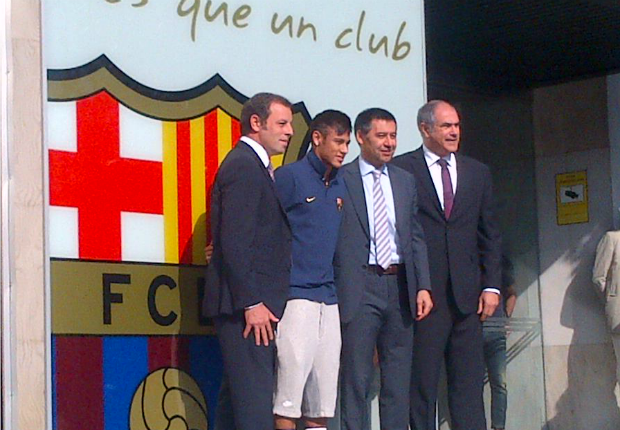 339144
2013-06-03 16:22:46
Now, Javier Clemente knows a little more about the game than I, but surely we can't start discounting players on account of their haircuts?

I mean, two-time Ballon d'Or winner Kevin Keegan used to sport a perm, two-time South American Footballer of the Year Carlos Valderrama rocked a blonde afro, while Ronaldo ... well, I don't know what on earth it was that the Brazil legend was wearing at the 2002 World Cup but we can only be incredibly grateful that it didn't catch on.
339142
2013-06-03 16:21:13
Anyway, while we wait, let's get an informed and insightful appraisal of Neymar's talents from Javier Clemente.

"I don't really know much about Neymar. I have only seen him on television. But there are a few things I do no like about him," the former Spain boss told Sport.

"I don't like the hype surrounding him. I prefer things to be simple and I don't like his haircut and his eccentricities."
339140
2013-06-03 16:15:57
Now, Neymar was supposed to be walking onto the pitch right about now but he's nowhere to be seen, so let's check with Pilar for the latest ...
"We're running a bit behind schedule but just to give you an understanding of just how big an event this is, not only are there 60,000 Barca fans at Camp Nou, there are 122 media professionals from 15 different countries here today."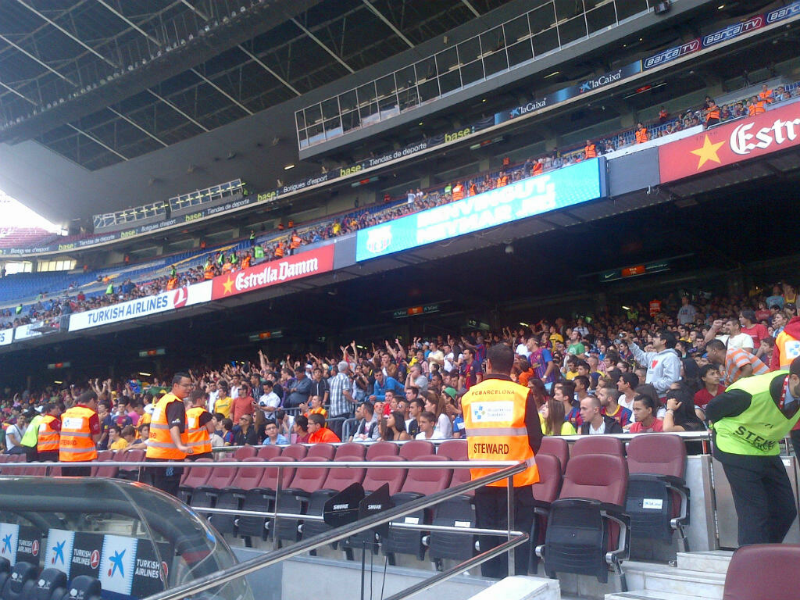 339137
2013-06-03 16:11:49
However, if you're a Barca fan and in need a pick-me-up after that gloriously pessimistic piece from Paul 'Captain Bringdown' Macdonald, well then you're gonna need a montage - and here's one
HERE
that perfectly illustrates just why Barcelona have decided to spend a fortune on Neymar.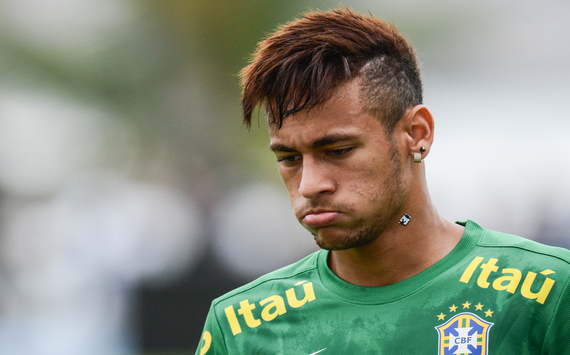 339134
2013-06-03 16:06:18
In fairness to the
Blaugrana
, they have signed some sensational Brazilian talent down through years. Evaristo, Romario, Ronaldo, Rivaldo (my favourite!) and Ronaldinho - legends, the lot of them.
However, what about Henrique? Remember him? Barca certainly don't want to. The Catalans paid €8 million for him in 2008 but he never made a single appearance for the senior squad before being allowed to rejoin Palmeiras on a free contract last year.
If you'd like to read more about Brazilians who have flopped spectacularly at Camp Nou (and who wouldn't?!), check out this
brilliant feature from Paul Macdonald
.
339132
2013-06-03 16:04:15
Now, while I personally think it's poor form of Hoeness to have brought poor Breno into this debate, the Roten chief does make a fair point about a number Brazilians having failed to make the grade in Europe or live up to the enormous pressure placed upon their usually carefree shoulders.

Denilson, pictured below, certainly springs to mind. Real Betis broke the transfer world record to sign him from Sao Paulo in 1998 but upon arriving in Seville it quickly became apparent that the winger was very good at stepovers and ... well, absolutely nothing else.
339129
2013-06-03 16:01:26
Of course, Neymar's talents have long been universally admired. Indeed, it's worth noting that Pep Guardiola's preference was for new club Bayern Munich to sign Neymar ahead of Mario Gotze.

"Guardiola had certain ideas to bring in a young Brazilian player [Neymar]," Bayern president Uli Hoeness revealed during a recent IDG Communications Media AG gathering.

"But we have had a number of bad experiences with young Brazilians in the past. If you consider signing someone who costs €20-30 million or even more, it is a difficult decision. We all know what happened with Breno ...

"So we started looking for a similar player and eventually signed Mario Gotze."
339127
2013-06-03 15:58:00
However, Blaugrana one-season wonder Ronaldo is actually in complete agreement with Pele: "Logically, Messi is better right now but Neymar is a great talent who will show the world that he will be number one."

And while Barcelona legend Ronaldinho steered clear of the Messi v. Neymar debate, he is in no doubt that his compatriot is destined for greatness.

"I can't explain how special he will become," 'Ronnie' humbly revealed while repeatedly volleying a ball against a crossbar from 18 yards out purely for his own amusement.
339123
2013-06-03 15:53:55
Unsurprisingly, Neymar's compatriots are more than a little excited about a player who, as a teenager, inspired Santos to Copa Libertadores glory in 2011 - their first such title since the halcyon days (is the word 'halcyon' ever used in any other context) of Pele.
Speaking of Pele, he has memorably stated: "Everyone is talking about Messi now - and he is a star. But [to be the best ever] he must first become better than Neymar."
And you know Pele, he's not one for making wild and grossly inaccurate appraisals ...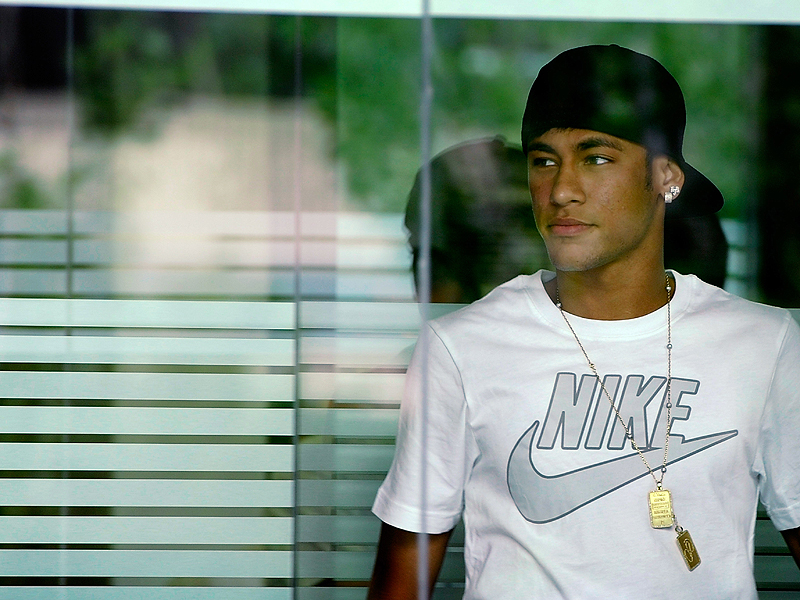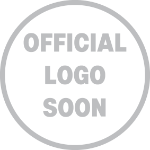 RZ Pellets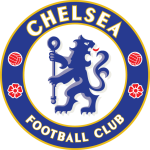 Chelsea FC
Prediction Submitted
Most Popular Predictions
RZ Pellets 8-0 Chelsea FC

13.55 %

RZ Pellets 0-3 Chelsea FC

13.08 %

RZ Pellets 1-3 Chelsea FC

7.94 %