Zinédine Zidane
Why Zidane would be foolish not to take the Man United Job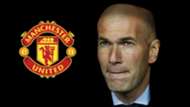 I pen this article in reference of my opinion that Zinedine Zidane should take the Manchester United job if the Red Devils decide to axe Jose Mourinho. Of course there have been some debates as to whether he can resuscitate this once great footballing club, and definitely there is a strong chance he may fail, but should he be given the reins, it could well expand his horizons as a manager.
United represents a new challenge
For Zizou Real Madrid was his home. It was a club that allowed him to win some of the biggest trophies especially the Champions League, an honour which he craved so much for when he moved to Spain from Juventus.
Ultimately, his timely decision to leave Turin led to a Champions League winner's medal. If you catch the ball, one will realise that most footballing greats challenge themselves constantly just as Cristiano Ronaldo's departure to Italy proves. That bravado in leaving one's comfort zone can often yield the biggest of rewards.
At Madrid as a manager Zidane had the familiarity of his surroundings. Players respected him for he was one of them and thus he did not have to do that much to earn respect from his charges compared to his predecessor Rafa Benitez. Of course Zidane had the tactical nous to back it up but at United his man management skills will be severely tested for he will need to foster togetherness in an alien environment. Of course this will be a challenge but should he come out triumphant, his reputation will be greatly enhanced.
Financial security
Zidane the manager never really did use the transfer market during his time at Madrid as he felt the players were good enough. However United have been seriously spendthrift under Mourinho. The Portugese has wasted money on Alexis Sanchez and are not seeing the expected returns on the pitch for the exorbitant fee they paid for Paul Pogba as the former Juventus man continued his protracted discontent with Mourinho.
All of this leads to why Zidane and United are a match made in heaven. The former France captain is thrifty and believes in only spending what is necessary. United could especially use this quality of his after the amount of money they have wasted on the wrong players. Zidane instead relies on clear communication of his tactics to his players in getting them to function how he wants them to.
Of course should he need to purchase a certain player, he can be rest assured that United can cough up the cash. After all this is a club that paid £89.5 million to secure the services of one of their academy graduate after allowing him to leave for free to Turin.
Zidane's progressive style
Full-flowing, entertaining and progressive. These are some of the words that can be used to describe Zidane's Madrid as they achieved a hat-trick of Champions League triumphs. For United fans this is something they crave so much for.
These days fans of the Red Devils can only lament the era of Sir Alex Ferguson where progressive football was the order of the day and late goals were something to be accustomed to. However matches at Old Trafford tend to be a snoozefest today thanks to Mourinho's stifling tactics.
It feels as if under the Special One, United have lost that spark that much cherished quality to dazzle its audiences. Indeed that entertainment factor was wielded fully by Sir Alex as he combined success with the ability to captivate. Is it any wonder that United need Zidane.
Yes, Chris Smalling is no Sergio Ramos and Marouane Fellaini can't be compared to Toni Kroos but there is no reason to believe that Zidane can't find the right formula to get the maximum out of this United team.
Like I mentioned in my first point, all of this points to a challenge for Zidane as a manager. To prove that he can succeed without superstars. That he is tactically adept and not just a one trick pony. Zidane can rebrand himself here in Manchester as a manager for the long-term.
To state whether Zidane can deliver the league title or Champions League is not the real question but whether or not he has the belief to rebuild this football club. When Ferguson started out at United, he endured a rough phase but it was his belief and conviction that made him mould United into a global force. I believe Zidane has that belief. After all, this was a man whose career was largely built on that quality.