UEFA Champions League
Zidane came of age against Atletico - but how will Benzema, Bale & Ronaldo fit in new system?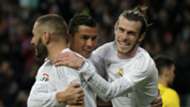 ---
COMMENT
---
Zinedine Zidane came of age as a coach against Atletico. The 44-year-old clearly learned the lessons from derby defeat to Diego Simeone's side in February and was ready with a different plan to win the match this time around.
Ronaldo hat-trick gives Madrid memorable derby win
With Karim Benzema struggling for fitness, the French coach utilised Cristiano Ronaldo in the central striker position, with Isco behind him in a playmaking role, while Gareth Bale and Lucas Vazquez played as orthodox wingers in a four-man midfield.
It worked wonderfully. Even without the injured Casemiro, Madrid matched Atletico's intensity, dominated the first half completely and went on to win the game comfortably after Atletico had briefly threatened a revival in the second period.
It was probably the best performance in Zidane's tenure so far and, after the match, the coach is said to have told his players in the dressing room: "If we play with that intensity, nobody can beat us." But the question now is: can Madrid play with that same intensity with the Frenchman's favoured front three of Bale, Benzema and Ronaldo?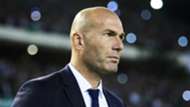 Benzema's lack of fitness allowed Zidane to make an important change, with Ronaldo furthest forward and concentrating solely on attacking duties. Meanwhile, Isco was a revelation in the role of a more traditional number 10 - a position he loves but never gets to play these days for Madrid - and both Bale and Lucas worked hard on the flanks where they were equally important in attack and defence.
VIDEO: Gareth Bale on his Madrid team-mates
With Alvaro Morata out, Zidane was unable to bring in the Spain striker as a straight swap for Benzema and that may have done the coach a favour. Instead, he was forced to conjure up something different and the surprise factor seemed to stun Atletico, while the presence of Lucas makes Madrid much more intense in terms of work-rate - just what they needed against Atleti.
Zidane has insisted since day one that his idea is to play with "the three up top" and he reiterated that in the press conference ahead of the match against Sporting on Tuesday. "It's not that they are non-negotiable," he said on Monday. "They are simply the best."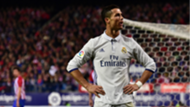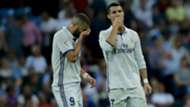 Benzema & Ramos to start? How Madrid could line up against Sporting
However, Benzema has been troubled by a hip problem since the summer and has been well short of his finest form, often going missing in games and offering little in the way of defensive duties. Add that to Ronaldo's unwillingness to track back from his usual position on the left and it means Madrid lose intensity. The 'BBC' are also yet to all score in a match together this term - something they have done on a regular basis in the past.
Nevertheless, Zidane seems set on picking all three when they are available and even selected a four-man forward line in the away game against Legia Warsaw because Morata deserved to start and he was reluctant to leave out Benzema.
As it is clearly his intention to have the France forward in the team, Zidane could try out Benzema behind Ronaldo as a deep-lying attacker who can link up with the midfield (at the expense of Isco), which is something Karim does very well anyway. But, in order to maintain the intensity of Saturday's showing, a 4-4-2 or 4-4-1-1 with Lucas in the side seems likely to be more effective than the customary 4-3-3 with the BBC up top.
So, inadvertently, Benzema's fitness problems may have helped Zidane to find a winning formula against Atletico on Saturday. The key now will be to find another one when Benzema is fully fit to start along with Ronaldo and Bale.