African All Stars
Zaha has Crystal Palace's support after being racially abused, assures Roy Hodgson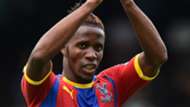 '
Crystal Palace
will do everything they can to support Wilfried Zaha', says coach Roy Hodgson after the winger revealed that he was subjected to racial slurs and death threats.
On Tuesday, Zaha posted an update on his Instagram that claimed he was sent some vile abuse after winning a decisive penalty in Arsenal 2-2 draw on Saturday.
"For all the people taking it one step further and being racist and wishing death on my family, I wish your families the best too," Zaha wrote.
"P.S My life is still very good despite your hate."
However, the Eagles' manager has assured that the Cote d'Ivoire international has the support of the club.
"The club will do everything they can to support him," Hodgson said after Palace's loss to Middlesbrough in Wednesday's English League Cup.
"I don't think there are many people out there who believe that racially abusing people is the right way to go. Our support is with the player."
After the encounter at Selhurst Park, Arsenal's Granit Xhaka admitted he fouled the Cote d'Ivoire international.
"It's difficult. I think it's a clear penalty," he said.
"I touched him in the knee. The referee gave a penalty. That's football."