Transfers
'You don't come to Arsene Wenger, you come to Arsenal' - Under-fire boss plays down his role in transfer deals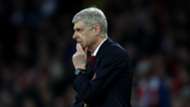 Arsene Wenger believes the Arsenal name will be more appealing to transfer targets than his continued presence at Emirates Stadium.
An announcement regarding the Gunners' plans for 2017-18 is yet to be made, with their manager's contract running down.
Wenger: Arsenal will keep attacking
Various reports have suggested that the long-serving Frenchman will be offered an extension in the face of mounting opposition against his reign.
Wenger claims that a decision has been made, but that call is yet to be fed down to the playing staff or a frustrated fan base.
He is, however, adamant that the lack of clarity will have no impact on summer recruitment plans, with it unlikely that any addition will place greater emphasis on playing for him than turning out for a top Premier League club.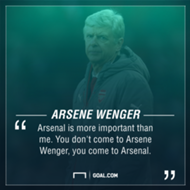 "Players will ask if I will still be here," he said.
"Arsenal is a world brand today, respected all over the world, and the Arsenal name is bigger than my name. Arsenal is more important than me. You don't come to Arsene Wenger, you come to Arsenal.
"Of course we are planning for next season. But if I stay two months or 10 years, I do my job exactly the same.
Wenger: Blaming me an easy excuse
"You can decide on which players you want to bring in. Players will usually want to know who they are playing for, but at the moment we are not in transfer mode.
"We analyse what we have to strengthen, but we are not in contract negotiations."
While facing calls for him to step aside at the end of the season, Wenger insists that his commitment to the managerial post at Arsenal has not waned and that he retains the ability to change his ways at the age of 67.
He added: "It is a strange season, because it escaped from us in moments.Not a lot, but every time it was a fraction that was for the other side.
"It started at Everton in December where we were 1-0 up and lost 2-1. And then in the next game at City we were 1-0 up, and the same thing happened. Things went against us and we could not respond. It is a weird feeling.
"You try to ask yourself how to get to the next level, where you can improve, what can you work on. I have done that since I was a kid.
"When you have my age, what is important is to have a project in life. And my project is always to find myself.
"Life is movement and evolution and competition, and in competition if you stand still the others move forward, so there is an evolution. That is always existing, and you have to move with it."
Arsenal return to domestic action after the international break with a crunch clash at home to Manchester City on Sunday, with that contest presenting them with an opportunity to close back in on the Premier League's top four.