Young Africans
Yondani and Chirwa refuse new contract offers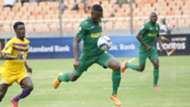 Yanga duo Kelvin Yondani and Obrey Chirwa have reportedly refused contract extension talks with the club as they look to leave the club at the end of the season as free agents.
Both players did not make the squad that travelled to Algeria in their Caf Confederation Cup clash against U.S.M Alger on Sunday.
Yondani who is banned by the TFF after his conduct against Simba's Asante Kwasi in the Dar es Salaam derby last week joined Yanga in 2012 from Simba.
Chirwa who is reportedly set to join Simba is out of contract at the end of this season and he joined the club in 2016 from FC Platinum of Zimbabwe.