African All Stars
'Hated' Yaya Toure not coming out of international retirement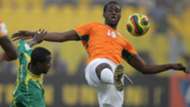 Manchester City 's Yaya Toure has insisted that he will not come out of international retirement.
The midfielder took a bow in September 2016 after a stellar career with Cote d'Ivoire senior national team, where he won the 2015 Africa Cup of Nations title and was named Africa's best four times.
According to him, he would not consider going back to the Elephants' squad because he was not treated right by countrymen despite showing them love.
"To be honest, I was very sad at what is happening in my country. Sometimes you're not the king in your country, but you're a king outside," Toure told KweseESPN.
"I think the way I've been treated, I was living in my mind like I was the most hated person in this country because they're always creating things with my big brothers, and always create problems between players
"Cristiano Ronaldo, it's never happened to him in his country. I think [Cameroon's] Samuel Eto'o was fine, he was very loved in his country. Me, I was worse.
"Any problems that happened in this national team was me. It made me sad the way I was feeling like I was the most hated person.
''What I was trying to do was show them that I love the country [despite] what happened to me. I promised my wife and my family and friends I would bring them a trophy [Afcon] and then I left."