Young Africans
Yanga's Mwandila: We are ready for the Derby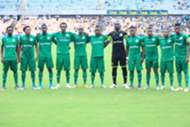 Yanga Assistant Coach, Noeli Mwandila is confident that his side have a big chance to win the Dar es Salaam derby when they take on Simba this Sunday.
Speaking to Goal, Mwandila said that they have had good preparations and the team is in good sprit ahead of the huge clash.
"We are in good spirit ahead of the match, we have had good preparations and we think that we will deliver, although the match will be tough for both sides," said Mwandila.
Yanga pitched camp in Morogoro ahead of the clash which they need to win in order to keep their hopes of defending their title for the fourth times in row alive.