Transfers
Willian wants new contract and 'more years' at Chelsea amid Man Utd transfer talk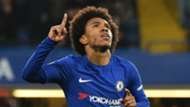 Willian may have sparked talk of interest from Manchester United, but he is eyeing a new contract and "more years" at Chelsea.
The Brazil international is already tied to the Blues until 2020.
He is, however, hoping that his efforts – which have seen him star for Antonio Conte's side over recent weeks – will eventually earn him fresh terms.
If an extension is tabled, then Willian will be able to bring an end to the speculation suggesting that he could leave Stamford Bridge at some stage.
The 29-year-old told Planeta SporTV: "My goal is to stay here at Chelsea.
"Unless Chelsea does not want me anymore - then I'd have to find another club!
"I want to stay here for many more years, if it is possible, to renew my contract. On that, we have not talked yet. It might happen. I'm adapted here.
"I will have been here five years at the end of the season, I've won titles. I think I have the affection of the fans too.
"I intend to continue here until the end of my contract, to renew, and to continue for more years."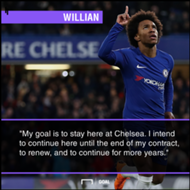 While seemingly ruling out an imminent switch to United, amid talk of a possible reunion with former Chelsea boss Jose Mourinho at Old Trafford, Willian has also cast doubt over finishing his career back in his native Brazil.
A man who emerged through the academy system at Corinthians added: "To be honest, today I have no thought of returning to Brazil or even ending my career in Brazil.
"My goal is to stay here and, if possible, finish here as well.
"That is my thinking today. I do not know what will happen in the future, if I might change my mind. But today my thinking is this - stay in Europe and wind up here too."